February 13, 2015
Come to the Kaizen Open House today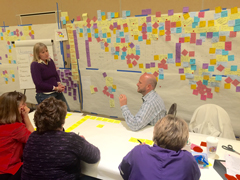 The Division of Human Capital Services invites you to the Kaizen Open House from noon to 1 p.m. Friday, Feb. 13, in the K Ballroom of the K-State Student Union.
You will be able to walk the current state hiring process and then have insight to how this process will be improved.
Learn more about the Kaizen process. Follow the @KStateVPHC Twitter account and the hashtag #KStateKaizen to get a behind-the-scenes look of the process.