February 2, 2015
Come celebrate Powercat Financial Counseling's fifth anniversary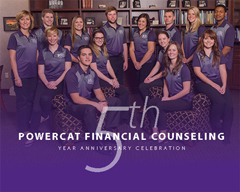 The campus is invited to attend Powercat Financial Counseling's fifth anniversary celebration from noon to 1:30 p.m. Wednesday, Feb. 4, in the K-State Student Union courtyard, next to Salsaritas.
K-State's former student government leaders will be on hand to speak about their vision for establishing the center and all peer financial counselors and Powercat Financial Counseling Student Advisory Board members will be recognized. Additionally, current and potential supporters will attend. Refreshments, as well as entertainment by K-State's Cadence, will be provided.
Powercat Financial Counseling offers free financial counseling to any current K-State student. We look forward to celebrating five years of financial counseling at K-State with you.