October 28, 2014
Kids Voting Kansas program needs volunteers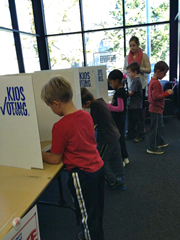 When volunteers give school children the opportunity to vote the kids are more likely to be informed voters in the future.
Kids Voting Kansas, sponsored by the K-State Institute for Civic Discourse and Democracy and USD 383, gives elementary students the opportunity to vote in their schools on election day. Their participation in the process increases lifelong voting. Kids Voting Kansas is an affiliate of Kids Voting USA. It began in 1992 with six Kansas communities. Kids Voting has grown to include 55 Kansas communities, involving over 230,000 students. In 2012, more than 4,100 Manhattan-Ogden USD 383 students voted in their schools.
Volunteers make Kids Voting Kansas possible. On Tuesday, Nov. 4, the K-8 students in 11 Manhattan-Ogden USD 383 schools need volunteers to staff their polling booths. Volunteers will work often fast-paced and always rewarding two-hour shifts from 8 a.m. to 4 p.m. Volunteers also need to attend an orientation session. Two options are available at 4 p.m. Thursday, Oct. 30, and at 1 p.m. Saturday, Nov. 1, both at the K-State Student Union's Room 206.
To volunteer or ask questions, contact Lindsey Schmeidler at lschmeid@k-state.edu or 785-259-2715 or 785- 532-6868. The Institute for Civic Discourse and Democracy's mission is to build community capacity for informed, engaged and civil deliberation.