October 17, 2014
APDesign professor presents in Hungary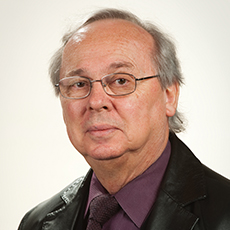 K-State architecture professor Peter Magyar visited Budapest, Hungary, from Sept. 11-18 at the invitation of the Technical University of Budapest's faculty of architecture and the World Organization of Hungarian Architects and Engineers.
With Marcelo Sabates, K-State vice provost for international programs, Magyar met with Akos Jobbagy, vice rector of Technical University of Budapest, and Csaba Molnar, the dean of the faculty of architecture, to further the cooperation between the school and K-State.
Sabates also attended the opening of Magyar's exhibit, where enlarged panels of some of his works were shown. Magyar later gave a public lecture on the topic of the simultaneity of cognitive and emotive forces in design. He also had the opportunity to tour the soon to be completed Cultural and Sports Center, that he co-designed with Antal Lazar, former dean of architecture at the Technical University of Budapest.
As a request from the editor of the Hungarian Architecture journal, Magyar published "Travel Sketches of the First Salon of Hungarian Architecture." It is a critical essay about the First Salon of Hungarian Architecture, which took place in the Kunst Halle of Budapest from June to September 2014. The publication included 120 drawings, depicting all of the buildings exhibited on the show. These drawings were published by the organizers of the exhibition in an album format, and were sold as numbered and signed copies.