October 9, 2014
Second Jefferson fellow lecture to feature computer vision expert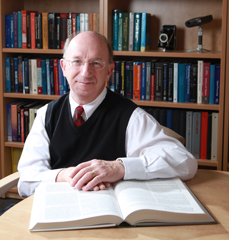 Kim Boyer, professor and head of the electrical, computer and systems engineering department at the Rensselaer Polytechnic Institute in New York, will give the semester's second Jefferson Science Fellow Distinguished Lecture.
Boyer's lecture, sponsored by Kansas State University's electrical and computer engineering department, will be at 2:30 p.m. Thursday, Oct. 16, in Fiedler Auditorium. A short reception will follow in the College of Engineering atrium.
In his lecture, "Sensing occupancy patterns in smart lighting with some connections to public policy," Boyer will discuss the connections between engineering and public policy as well as the effect of innovation on economic growth.
The Jefferson Science Fellow Distinguished Lecture Series — in its inaugural year — features former Jefferson science fellows from across the nation. Every academic year, four fellows travel to Kansas State University to talk about their research and their experiences at the U.S. Department of State.
Jefferson science fellows are tenured academic scientists and engineers from U.S. higher education institutions and spend a year serving as scientific advisers at the U.S. Department of State in Washington, D.C.
As a Jefferson science fellow, Boyer spent the 2006-2007 academic year as a senior science adviser to the Bureau of Western Hemisphere Affairs. While in Washington D.C., he studied the effect of technological innovation on economic development in scientifically lagging and scientifically developing countries. He also developed policy recommendations for the use of science and engineering as instruments of diplomacy. He retains his fellowship as a consultant on science and technology policy for the U.S. Department of State.
Boyer's research interests include all aspects of computer vision and medical image analysis, including perceptual organization, structural analysis, graph theoretical methods, stereopsis in weakly constrained environments, optimal feature extraction, large modelbases and robust methods.
He received his bachelor's degree, master's degree and doctoral degrees, all in electrical engineering, from Purdue University in 1976, 1977 and 1986, respectively. From 1977 through 1981 he was with Bell Laboratories, Holmdel, New Jersey; from 1981 through 1983 he was with Comsat Laboratories, Clarksburg, Maryland. From 1986-2007 he was on the faculty of the department of electrical and computer engineering at Ohio State University.
Boyer has published five books and more than 100 scientific papers. He has lectured in nearly 30 countries around the world.