October 2, 2014
K-State Crops Team wins Australian Universities Crops Competition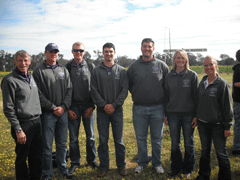 Six members of the Kansas State University Crops Team recently took a study trip to Australia and took first place in the Australian Universities Crops Competition. The event was hosted by the Australian Grain Growers organization in Temora, New South Wales.
K-State Crops Team members making the trip included Katrina Sudbeck, Seneca; Ben Coomes, Girard; Nathan Larson, Kensington; Sam Knauss, Paola; Tyler Herrs, Linn; and Jeri Sigle, Council Grove. The team is coached by Kevin Donnelly, professor of agronomy.
Sudbeck took the top individual overall award, and Coomes placed second. As top individual, Sudbeck also will have the opportunity to travel to Asia with the Grain Growers organization on a grain marketing trip in February 2015. Iowa State University placed second in the contest, followed by Sydney University. Five other agricultural universities across southern and western Australia competed.