February 27, 2014
K-State Mock Trial Team is best in the state
Submitted by Daralyn Gordon Arata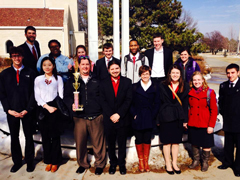 Kansas State University can once again boast the best mock trial team in the state for the second year running. At the American Mock Trial Association Regional Qualifier tournament at Washburn University in Topeka the K-State Varsity Mock trial team won third place with a winning record of 7-1. The junior varsity team placed 10th out of 22 teams.
Torrey Peterson, senior in political science and pre-law from St. George, won the top attorney award at the tournament and was the only student attorney to earn a perfect score of 20. The varsity team is now headed to the Open Round Championship Series Tournament at Washington University in St. Louis in mid-March for the second year in a row. Kansas State was the only Kansas school to advance to championship series.
The K-State mock trial team has existed for six years and in that time the team has made it to Open Round Championship Series Tournament three times, earned countless best attorney and best witness awards, and exemplified the professionalism and prose of true wildcat champions.
The team is extremely grateful for the support from the university, especially the communication studies department and the pre-law advising program. The team also is grateful for the support of its three dedicated coaches who have worked pro bono for the team for over three years. Attorneys Benjamin Long, Kansas City, and Britain Stites, Junction City, have commuted to and from K-State weekly to coach the team on crafting legal arguments.
Award-winning K-State Mock Trial alum Nikki Marcotte, Manhattan, has remained with the team to share her mock trial expertise with new and returning members.
Recently, Coach Ben Long was recognized for his extraordinary service at the largest national mock trial tournament in America in January. At the Loras College Invitational Tournament in Dubuque, Iowa, Long won the outstanding coaching award — the first of its kind — for which he was nominated by the K-State team.