February 20, 2014
Letter from A.D. John Currie: Update on national fundraising award, new hires, spring competition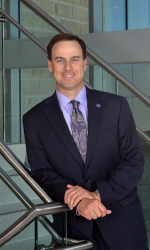 Good Morning Wildcat Nation,
It is another busy week of competition beginning with two important basketball games last night as the men hosted TCU at Bramlage, while the women were on the road and squared off with the Horned Frogs in Fort Worth. Coach Weber's team continues to fight for positioning in the Big 12 standings as well as an NCAA Tournament berth.
Before we move along further with additional updates, I would like to report some exciting news about one of our staff members.
Weiberg named national fundraiser of the year
Yesterday, the National Association of Athletic Development Directors, or NAADD, announced its annual award winners and I am pleased that our own Chad Weiberg has been named the 2014 NAADD National Fundraiser of the Year! Chad has done an unbelievable job rebuilding our Ahearn Fund infrastructure while leading our development staff in an effort to personally build relationships with K-Staters world-wide as we continue to seek the resources necessary to reach our goal of providing all of our student-athletes with a world-class experience. I am extremely proud of Chad and our entire staff for their hard work and tireless efforts in our pursuit of becoming a Model Intercollegiate Athletics Program. Of course, Chad would be the first to say that the true credit always goes to our donors! Click here for our full release, and again, congrats to Chad and the Ahearn staff!
Competition picks up this weekend
Spring competition has officially kicked into full gear as all of our teams have now begun their seasons. The defending Big 12 Baseball champs will continue an eight-game swing in California today with a 12 p.m. game against Portland before wrapping up play with single games on Friday, Saturday and Sunday. Excitement for baseball season is at an all-time high as evidenced by our record number of season tickets sold this season. Following eight games in California the Cats will open play at home on Feb. 28 against Milwaukee.
In other action this weekend, both track and field squads will host the K-State Open at 5 p.m. on Friday at Ahearn Field House, while our men's golf team is competing Friday and Saturday in California at the Wyoming Desert Intercollegiate. The women's squad will head out to Arizona Sunday and Monday for the Westbrook Invitational, while Coach Bietau and the women's tennis team will face North Texas and Tulsa in Oklahoma Saturday and Sunday. Both basketball teams will return to action Saturday as the men play at Oklahoma at 3 p.m. in a game that can be seen on the Big 12 Network or heard along the K-State Sports Network and online at k-statesports.com. The women will return home to host West Virginia at 5 p.m. in a game that will be televised live on FCS. Be sure and check k-statesports.com this weekend for full recaps and videos from all of the action. And be sure to check out our FREE daily K-State Sports Extra stories from Kelly McHugh and Mark Janssen for all things K-State both on and off the field. Click here to receive those emails if you aren't already.
Connole named director of sport psychology
Recently, we announced the hiring of Dr. Ian Connole as our director of sport psychology for athletics. Dr. Connole has hit the ground running and already is very busy working throughout the department. In his role, Dr. Connole is responsible for providing support and mental training for Wildcat student-athletes so they can develop a psychological edge in performance and participation and he also coordinates additional services that enhance the personal, academic and athletic success of student-athletes. Click here for the full release.
That will do it for today. Thanks again for all that you do in support of K-State student-athletes.
Go 'Cats!
John Currie