February 10, 2014
Interior architecture & product design students take part in design charrette to start semester
Submitted by Communications and Marketing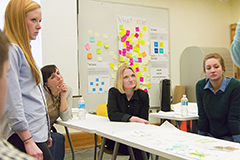 Students in interior architecture & product design kicked off the spring 2014 semester by taking part in a one-day charrette, "Well-being@Work," sponsored and coordinated by Steelcase design and sales professionals Kate Ward, Leah Drach and Dave Trousdale.
The three professionals offered students a window into their research exploring the physical, cognitive and emotional well-being of workers, and how, in the future, workers may go home healthier than when they arrived for work in the morning.
Steelcase, an office furniture company headquartered in Grand Rapids, Mich., conducts brainstorming events with customers and clients to discover furniture and system attributes that may contribute to enhanced well-being.
During the charrette, students were given a glimpse into the company's research, beginning with a "State of the Working World" presentation that explored workplace and societal pressures, issues and stressors, and quantified some of the costs involved in lost productivity and health care for an unhappy and unhealthy workforce. Students were introduced to a simple matrix of workplace spaces and scenarios that involved individuals and groups in either solitary or shared spaces. They explored the physical, cognitive and emotional well-being of workers, and then were asked to incorporate this research into ways that would positively affect workers' health.
Working in groups of four, students were given a problematic workplace situation and asked to ideate solutions. Situations involved a variety of places, postures and presences. A deck of imagery cards were added as prompts for engaging in positive and healthy behaviors. Students presented their results to a group of peers, faculty and the Steelcase facilitators.
Faculty and students appreciated Steelcase's information sharing and event sponsorship and thought it was a very effective way to kick off the spring semester and get creative juices flowing.