February 4, 2014
Letter from A.D. John Currie: 2014 football schedule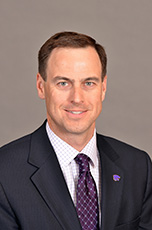 Good morning, Wildcat nation!
Finally! Thank you for your patience as we worked to finalize our 2014 football schedule, which you will see in its entirety below. With our consecutive home game sellout streak currently at 13 games, we are glad to be able to announce the 2014 schedule so that travel, wedding and vacation plans can now be completed by the K-State faithful. We sincerely appreciate K-State fans for continuing to showcase their passion and support of Wildcat student-athletes, coaches and staff as we progress toward the goal of a Model Intercollegiate Athletics Program. Indeed, all working together — players, coaches, fans, students, staff — we will achieve that goal!
We are excited to host seven home games in Bill Snyder Family Stadium, four of which are against teams that were bowl eligible this past season. Highlighting the home schedule will be the long-anticipated matchup with 2013 BCS National Championship runner-up Auburn of the SEC on Thursday, Sept. 18. Bill Snyder Family Stadium will be the focus of the college football world that evening, and the chance to host the reigning SEC Champion on ESPN's Thursday night platform in what will be one of the best non-conference matchups in the country next season is a terrific and unique opportunity for K-State. An open date leading into the game, as well as the extra two days of rest and preparation before our next home game the following week, provides the perfect opportunity to showcase Manhattan and K-State in one of ESPN's most-watched television windows.

With season ticket holders in 46 states, we certainly understand that a Thursday night game creates some travel challenges. Here's a little background on making a decision such as this – one that is not taken lightly.

First, playing on Thursday (occasionally) as one of only a couple of games nationally provides enormously more exposure for K-State and Manhattan in general rather than being one of several dozen games on Saturday. Schools very similar to K-State, like Virginia Tech and Clemson, have dramatically enhanced their programs' (and school) national brand position over the last 20 years by playing Thursday night games at home almost every year. As we enter the College Football Playoff era strength of schedule will be more important than ever, while our returning stars like Tyler Lockett and Ryan Mueller will have a great chance to earn more national credibility on a wider stage.

We also understand how important home game weekends are to our local business community, and since my arrival in 2009 we have made a commitment to have seven home games (rather than six on the schedules we inherited) each year. We last played a home Thursday game in 2010 and until this past season that game against Nebraska was one of our best attended games ever. We also typically have a higher student attendance on weeknight contests. I have talked to several merchants then and since -- many reported that their Friday and Saturday sales did not drop as much as they expected as lots of our fans chose to make it a three-day weekend. Retailers often say Saturday 11 a.m. games hurt their businesses, while our local restauranteurs don't like evening games, so regardless of what game day and time we are assigned, there is no perfect scenario. In fact, I was recently approached at church by a father who was anxious to schedule his daughter's wedding on that Saturday in Manhattan, but only, of course, if our game was moving to Thursday!

Also, the Big 12 Conference is contractually obligated to our television partners to provide a number of Thursday and nontraditional game dates each season. You'll recall a few years back during conference realignment times we were vividly reminded that being in a strong and viable conference is not a privilege we should ever take for granted. Hosting one of the Big 12's contractually required Thursday night games is an important way for K-State to bring value to the league.

Now back to the remainder of the schedule. The 2014 slate will get underway on Aug. 30 against Stephen F. Austin as we play four of our first five games at home to open the season.

Following the season opener against the Lumberjacks, we will open up Big 12 Conference play in week two with a road trip to Iowa State (Sept. 6) before a bye week leading up to the Auburn game. We will then host UTEP of Conference USA on Sept. 27 to wrap up non-conference play.

We will continue play at home on Oct. 4 against Texas Tech before enjoying a second bye week of the season. Following a road trip to Oklahoma (Oct. 18), the Cats will return home for two straight against Texas on Oct. 25 and Oklahoma State on Nov. 1.

After a trip to TCU on Nov. 8, the Cats will enjoy another bye week on Nov. 15 before heading to West Virginia for a special Thursday night matchup in Morgantown on Nov. 20.

We welcome KU to Manhattan on Nov. 29 following Thanksgiving before wrapping up the regular season on the road at Baylor on Dec. 6.

Announcing our schedule as early as possible is another element of achieving our goal of having the Best Fan Experience in the Big 12. Having a sold-out Bill Snyder Family Stadium makes a statement to all of college football, and after our record-setting attendance this season and a 2014 slate that ranks among the best in school history, we expect Bill Snyder Family Stadium to be packed with purple again next year!

All game times, ticket information and promotional schedules will be announced in the next couple of weeks, with season tickets officially on sale March 3, so make your plans now to be a part of the action in 2014.

One more thing: Auburn has a strong fan travel tradition and will almost definitely use all of the "visiting team" ticket allotment for its visit to Bill Snyder Family Stadium. We encourage you to act early once season tickets go on sale since another sellout is expected! Stay tuned to www.kstatesports.com for additional information, or call the Athletics Ticket Office at 800.221.CATS to join the 2014 season ticket waiting list.

Thanks for all that you do for our student-athletes, and we will see you this weekend at Bramlage Coliseum as our men's team hosts 15th-ranked Texas at 12:30 p.m. Saturday, in a key Big 12 Conference matchup.
Go Cats!
John Currie