January 17, 2014
Tickets available as K-State basketball hosts West Virginia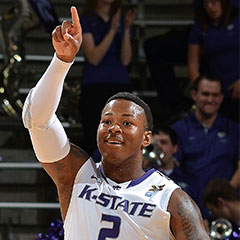 Tickets start at just $15 with a general admission Wildcat 4 Pack as Coach Weber and the Wildcats host Coach Huggins and the West Virginia Mountaineers tomorrow at 12:30 p.m. in Bramlage Coliseum.
The 1964 Final Four team will be recognized at halftime, as well as all former players in attendance as part of Legends Weekend.
The women's basketball team hosts Iowa State tomorrow night at 7 p.m. It's Pack the House night as all tickets and select concessions items are only $1.
Purchase tickets online or call 1-800-221-CATS.