November 18, 2013
Celebrating Geography Awareness Week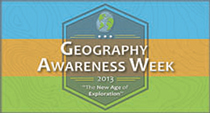 Join the K-State geography department and College of Arts and Sciences in celebrating Geography Awareness Week Nov. 17-23. The week will focus on increasing awareness of geography, education and its uses in everyday life.
"We are encouraging people to think and learn about the significance of place and how we affect and are affected by it," said Bill Wetherholt, doctoral candidate in geography. "The week tries to address that some of the social sciences aren't taught as strongly as they should be in American education. We are trying to reverse that trend and raise public awareness of some of these disciplines."
Geography Awareness Week will include sidewalk chalking promotions, flyers, booths at the K-State Student Union and Hale Library, and guest speakers, including John Roberts, K-State alumni and CEO of The Natomas Basin Conservancy, and Jonnell Robinson of Syracuse University. Robinson is a university professor and community geographer, and has been integral in many geographical advances such as identifying teen birth rate in Onondaga County in New York.
"This is an opportunity for current students to talk to people in their field, ask questions and see how the discipline has helped them," Wetherholt said.
K-State's events are part of the national Geography Awareness Week, which was started in 1987 by President Ronald Reagan to help increase awareness of the importance of geography, and increase it within the American education system. It is officially held annually during the third week in November.
The K-State Geography Awareness Week will include:
Tuesday, Nov. 19
John Roberts, K-State alumnus and CEO of The Natomas Basin Conservancy, will speak about "Career Opportunities in Restoration Ecology and Habitat Management for Geography Students" from 1-2 p.m. in 164H Seaton Hall.
A celebration of the 40th anniversary of the Saint George Geographical Society will start at 4 p.m. at Kite's Grille & Bar in Aggieville.
Wednesday, Nov. 20
Table displays with educational and promotional materials will be displayed from 11 a.m.-1 p.m. in the K-State Student Union and from 11a.m.-2 p.m. on the second floor of Hale Library.
Thursday, Nov. 21
Jonnell Robinson, Syracuse University, will speak about "Points, Lines and People: Plotting a Course for Community Geography" at 3:45 p.m. in the K-State Student Union's Big 12 Room.
Contact Bill Wetherholt at insitu@k-state.edu for more information.