November 5, 2013
New men's basketball student-athlete: Justin Edwards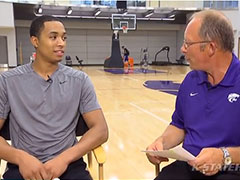 Justin Edwards was looking for something more, something different, and K-State men's basketball program offered him just that.
Though the junior transfer from the University of Maine will have to sit out the upcoming 2013-14 season under NCAA transfer rules, he knows in the long run, the opportunity to come to K-State was one that will only better him on the court.
"I wanted to get more exposure, better competition and obviously at K-State I could do that," Edwards said. "I can have that here and I'll have the ability to get better, work on my off year and make progression and work on things. That excited me to come here, plus, all the coaches are really good with the players and player development."
His sophomore season at Maine, 2012-13, the 6-feet-3-inch guard led the America East Conference in scoring averaging 16.7 points per game. During his career as a Black Bear, 2011-13, Edwards played in 58 of 60 games, had 56 starts, 877 points, 312 rebounds, 196 assists and 96 steals. During Edwards' freshman campaign at Maine, he was named America East Rookie of the Year after averaging 13.9 points per game and going down as one of the best freshmen in the program's history.
"The first thing you see in Justin is his athleticism, his jumping ability is off the charts," said K-State head coach Bruce Weber. "I'm not sure if in all my years I've been around somebody who can do things that way. He's got to get tougher, stronger, be more aggressive, but every day he gets a little better. The reason he came here was he wanted to try another level and he wanted to see if he had the ability to get there. He's worked at it pretty hard so far."
A native of Whitby, Ontario, Edwards' experience on the court includes competition with the Canadian National Men's Basketball team. This summer he was one of 16 players selected for the team's training camp at the Bo Jackson Fitness Center at Nike World Headquarters in Portland, Ore.
"It was a great experience getting to train with some of the best players in my country," Edwards said about his summer training. "You get a feel for a lot of different types of basketball. With the national team we play FIBA, so it's international playing, and then coming back to the U.S. and playing NCAA basketball is awesome."
Living in Manhattan the past four months, Edwards said he is enjoying his time as a Wildcat and looking forward to what the future holds during the rest of his K-State career.
"In my off year I'm going to bring a lot of competition in practice. I'm going to push players to become the best, make them better and make myself better," Edwards said of his goals this season. "And then, eventually when I'm able to play, I'm going to bring a lot of athleticism. I can score a lot of points; I put up numbers. I'm just an all-around combo guard so I think I will bring a lot to the table."
K-State men's basketball team tips off its season Friday, Nov. 8, against Northern Colorado at 8 p.m. in Bramlage Coliseum. It is the second game of a K-State Basketball doubleheader, with the women hosting Tennessee State at 5:45 p.m. Tickets to the women's game are free with your men's ticket, which start at only $15 or $50 for a Wildcat 4 Pack.