November 4, 2013
Your participation is counting: 38 percent and climbing
Submitted by Susan Wolf Berhow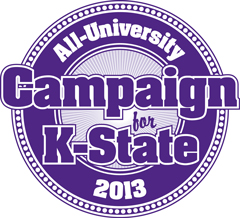 As of Friday, Nov. 1, 38 percent of all K-State faculty and staff have participated in the All-University Campaign to K-State. That's 1,922 of your co-workers who are making their participation count by supporting the area of K-State they care about most.
Here's what your co-workers are saying:
"It's my way of supporting education, the community and the hard working facilities employees at K-State." — Terri Wyrick, Division of Facilities. Supports the Division of Facilities Development Fund, Classified Employee Opportunity Fund. Read more.
"Find a program that you wish to support and give generously." — Larry Erickson, chemical engineering department. Supports the Consortium for Environmental Stewardship and Sustainability, the Center for Hazardous Substance Research and the Institute for Civic Discourse and Democracy. Read more.
"It's not about how much you contribute, it's about being part of the team." — Kathryn Harth, Division of Continuing Education. Supports K-State's Extraordinary Student Award and the Division of Continuing Education. Read more.
It's not too late to join them. Be sure to make your gift by Friday, Nov. 15, to be counted — and be entered to win great prizes, too!

Get started making your gift
Read more about why your co-workers give