Giving Back
Friends of the Statistics Department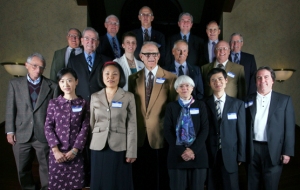 The Department of Statistics recently celebrated its 50th anniversary as a separate department on the campus of Kansas State University. Maintaining a tradition of excellence in the departmental missions has been greatly facilitated by the generous support of our friends and alumni.
Your gifts comprise a significant resource to our faculty and graduate students, and help make it possible to provide a rewarding educational experience for K-State students. For example, we use this money to help fund improvements in our technology labs, cover expenses for seminar speakers, and provide travel support for faculty and graduate students to professional meetings.
In addition, donations may be used to establish scholarships for undergraduate and graduate students in Statistics. As a result, all contributions significantly enhance the missions of the department. These missions include excellence in teaching, research and consulting, along with providing service to the profession and community.
Please consider making a gift to the Department of Statistics through the KSU Foundation. Please indicate that you would like your contribution to go to the Statistics Department Fund (F38300). You may also visit this web site or call the KSU Foundation toll free at 800-432-1578 for information about establishing an endowment or arranging a planned gift to the Department of Statistics. These funds can be designated for scholarship support or other purposes that will allow the department to continue its tradition of excellence.
If you have any questions about your gift, please contact Christopher Vahl, Department Head, at vahl@ksu.edu. Also, please feel free to send any news or suggestions as the department is always interested to hear from friends and alumni.
Thanks so much for your thoughtfulness and generosity. If you happen to be traveling through the Flint Hills, please stop by the department for a visit.