Previous Events:
SEI 2022 Congress in Atlanta 4/21/2022
Students from SEAKM were able to raise enough money to attend the Structural Engineering Institute Congress in Atlanta. The students were able to attend various presentations from professional engineers and meet many industry professionals. The trip was not exclusively the congress, but also an opportunity to explore Atlanta and the various activities it had to offer. SEAKM makes an effort to send students to the annual SEI Congress every year, and hope to attend again in 2023.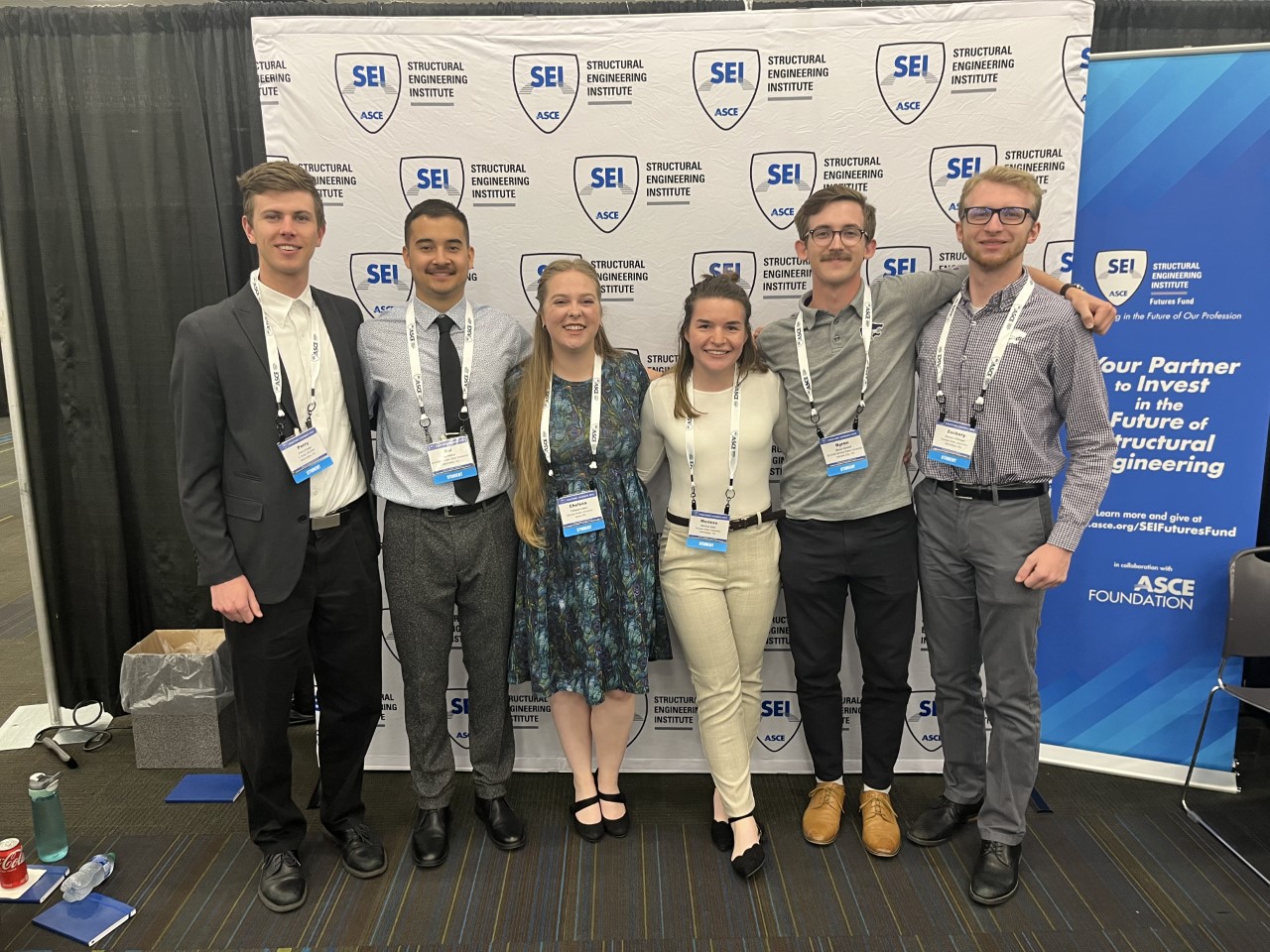 Pictured here from left to right are: Perry Foster, Kai Peirce, Chelsea Lewis, Marissa Ober, Byron Arnold, and Zachary Dillinger
McCown-Gordon parking garage site visit

11/04/2021
SEAKM students visit the McCown-Gordon parking garage in Aggieville to check its progress and analyze its design. The tour was led by the construction manager of the project, who walked through the construction process of the structural elements, some of the issues they had in design phase that impacted the construction and answered all questions the students had. At the time of the visit, November 2021, the upper levels of cast concrete were in place, and most of the work left was on the lower level. The parking garage is set to open to the public sometime in spring of 2022.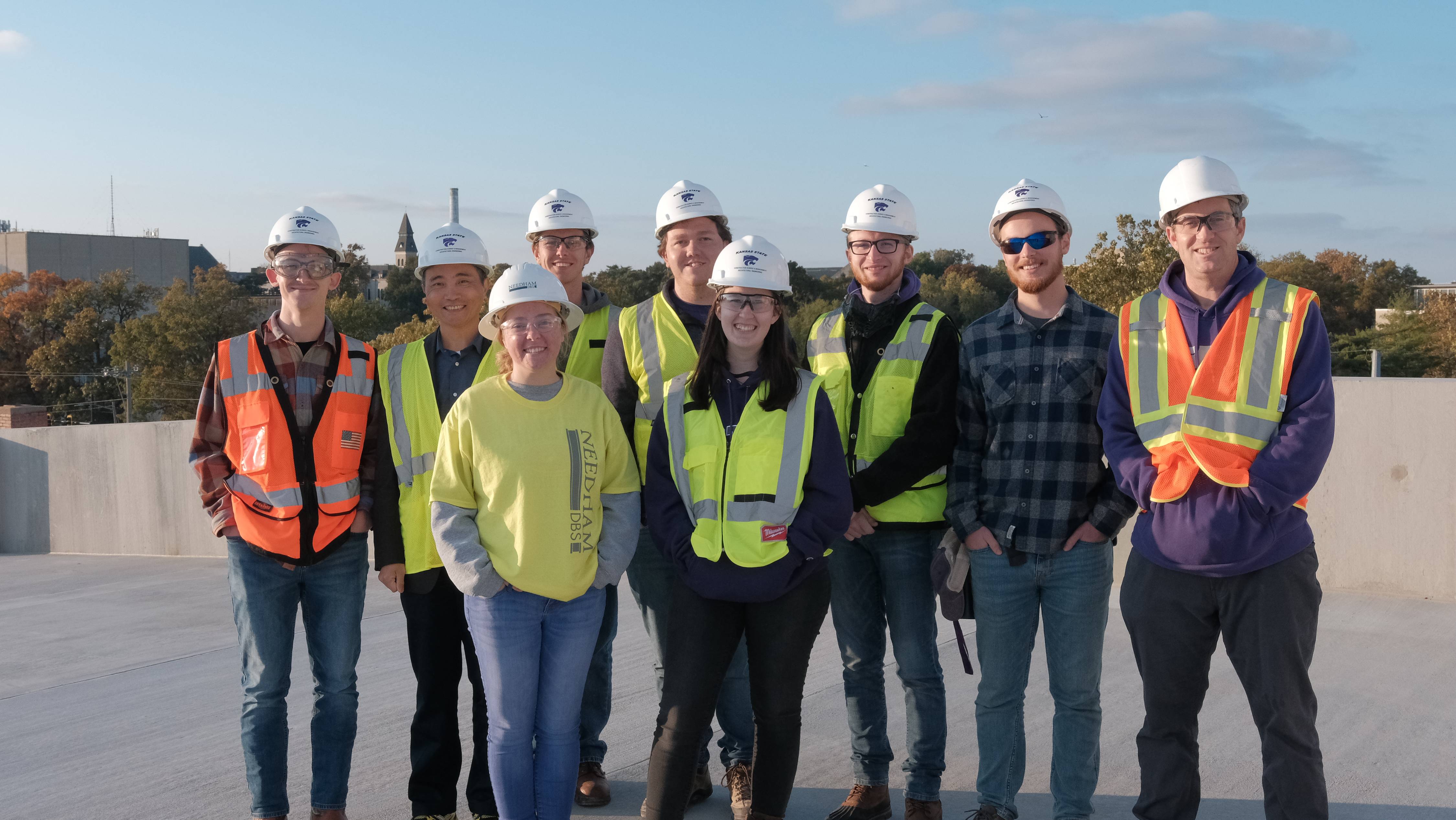 Pictured here from left to right are: Byron Arnold, Bill Zhang, Chelsea Lewis, Perry Foster, Brandon Cook, Madelyn Salmonowicz, Zach Dillinger, Zack Kelvington, and Kyle Larson.
Pumkin Chunkin' 10/29/2021
Taking a break from all the seriousness that is structural engineering, SEAKM members decided to host a pumpkin chunkin' event outside Seaton! This was a great opportunity for new and returning members to put their building skills to the test, literally! Pumkins were launched in volleys and many different strategies were used to knock down the cardboard structures made by group members, similar to angry birds. It was a successful event with a large turnout and a great start to SEAKM's events for the year!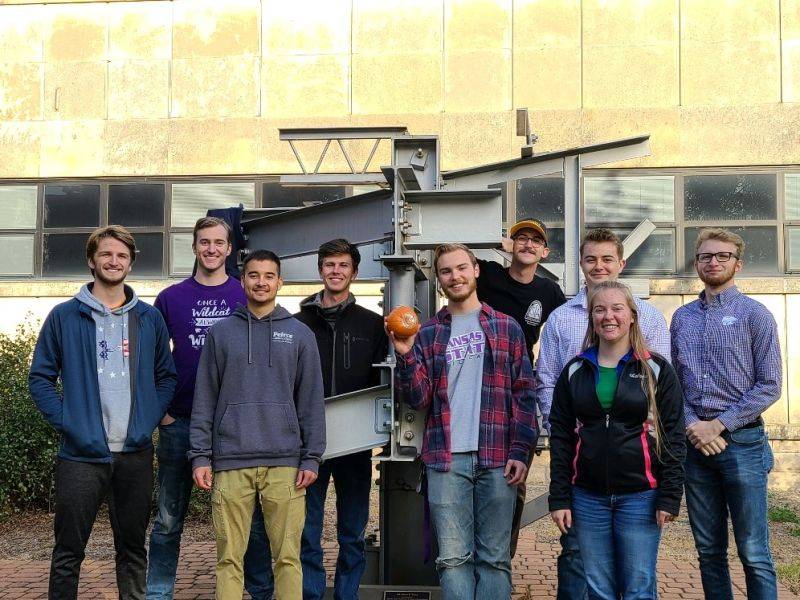 SEAKM Members posing after destroying the structure with a lucky pumpkin shot
Steel Day at HME 9/24/2021
ARE and CNS Students interested in steel fabrication and production were given the great opportunity to visit HME's steel day in Topeka. The group took several tours through the facilities and were able to speak with many attending companies. Overall a successful and exciting trip!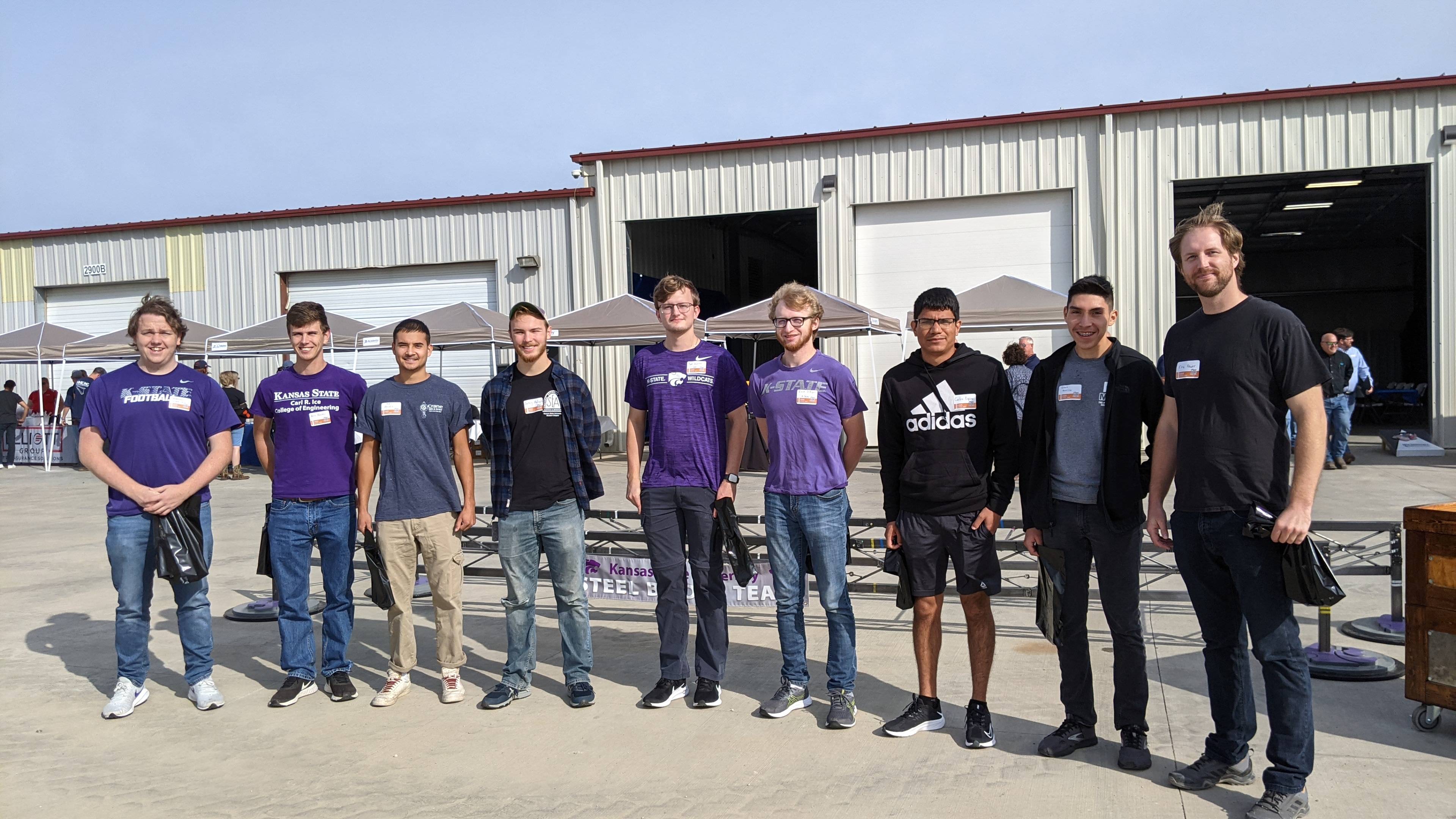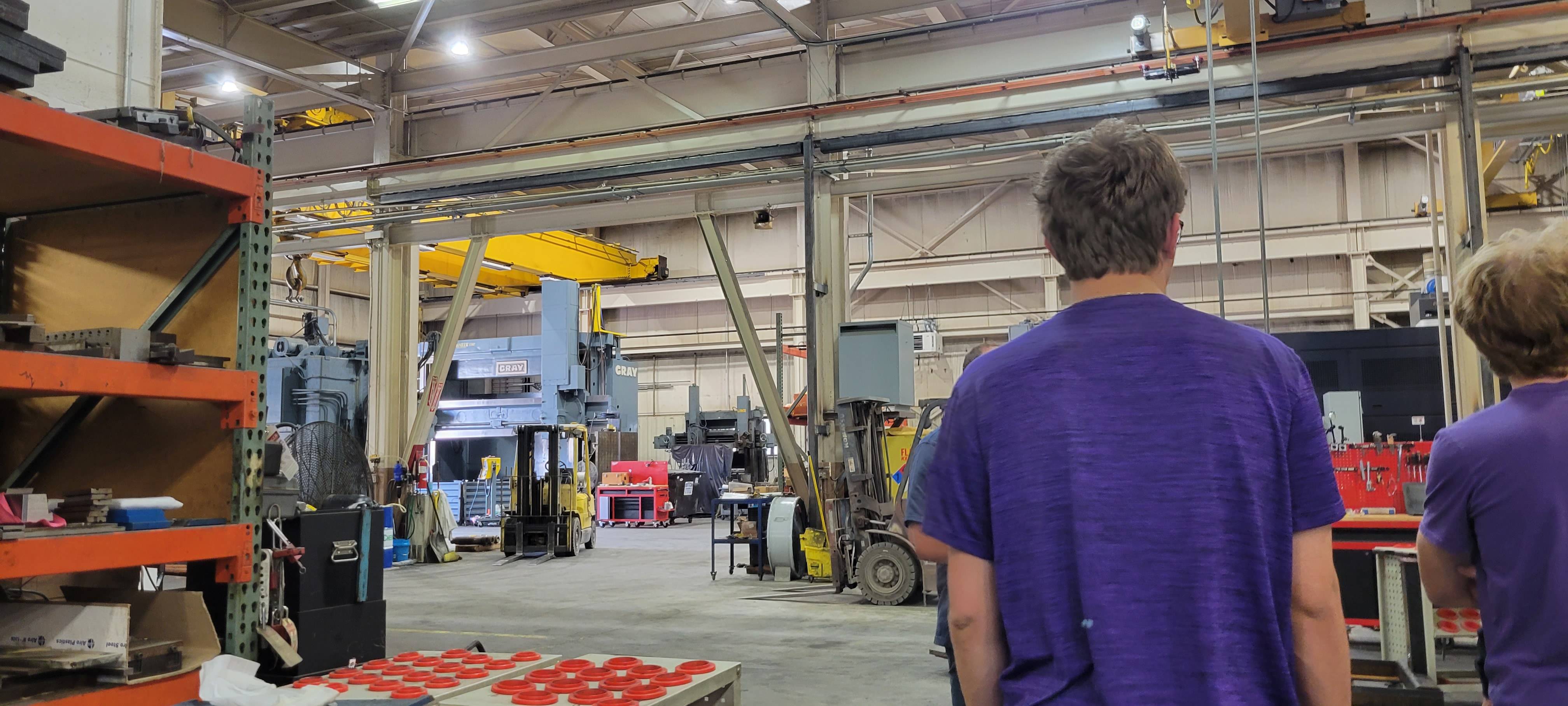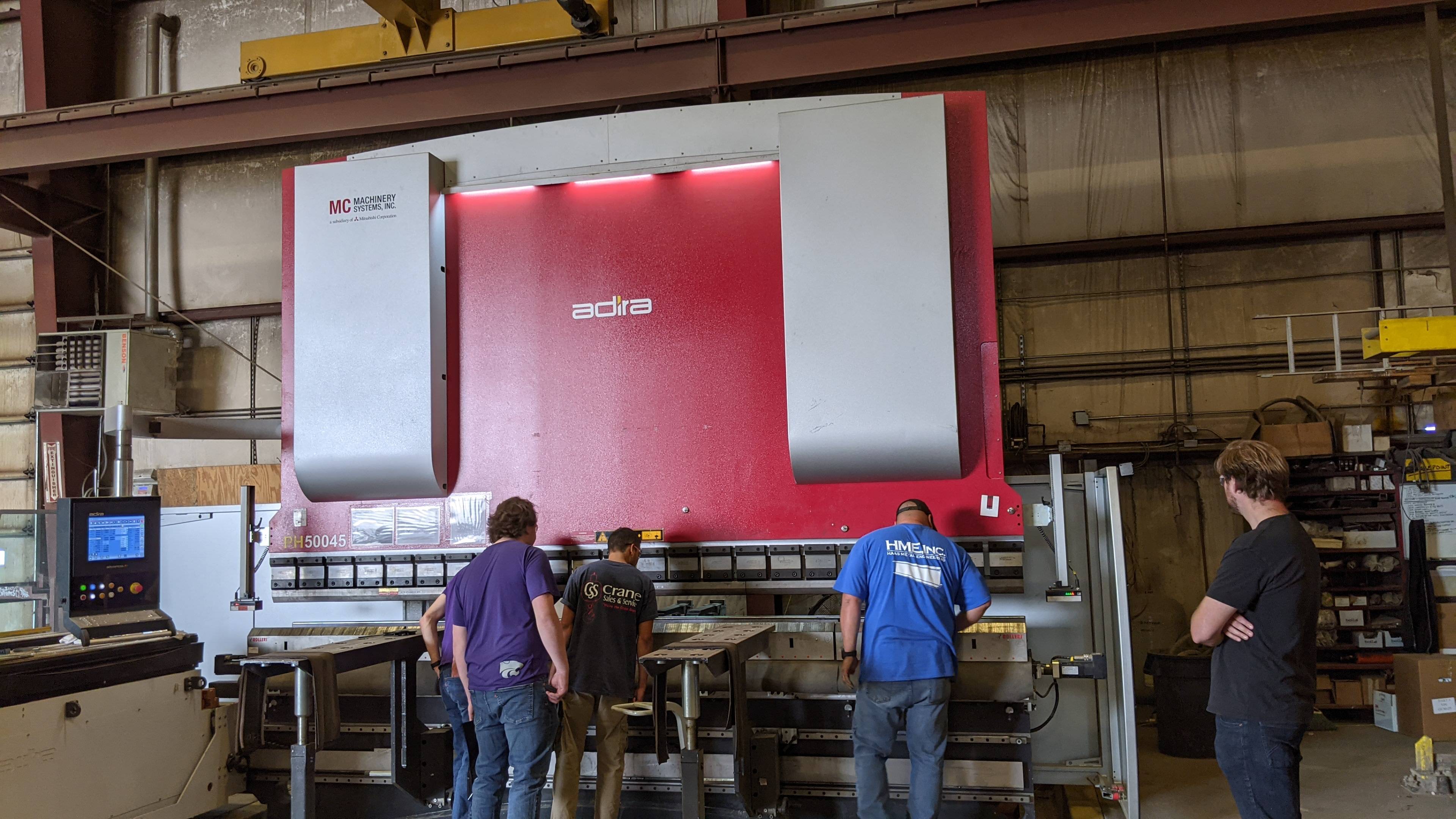 Events