Tim de Noble
Chapter Artist Award, presented April 22, 2015
The K-State Chapter of Phi Kappa Phi is honored to present its 2015 Artist Award to Tim de Noble, Professor and Dean of the College of Architecture, Planning, and Design. Dean de Noble received degrees from the University of Texas at Arlington and Syracuse University. Before he became Dean at Kansas State University in 2009, he was Department Head of the University of Arkansas Department of Architecture.
The person who nominated him for the award said: "I am nominating Professor and Dean Tim de Noble for the Phi Kappa Phi Artist's Award, primarily for his contributions related to promoting the centrality of art and design to our lives. Tim is passionate about integrating experiences from life, such as travel, to making architecture. His love for design and building stems from his father's influence as an urban planner. As an architect, Tim de Noble has over 30 built works. His architecture manifests a deep understanding of how technology, material advances, performance, and human understanding come together. As an educator, Tim has taught at several universities and has been invited to lecture and lead drawing and design workshops for students. Tim is a versatile leader in the studio and classroom, which has been recognized by the numerous invitations he has received to serve as a guest critic at many prestigious schools. Tim's love of books is manifest in the College of Architecture, Planning, and Design Lecture Series that he tirelessly promotes. He has increased the awareness of others on campus, in the state legislature, and elsewhere across the state and region about the value of art and design to the quality of campus life."
He has won many awards. Most recently, he was selected by Ingram's magazine, a Kansas-City based business magazine, as one of its 2015 Icons of Education.
Tim de Noble's response, read at the ceremony by Lynn Ewanow:
"Suffice it to say I am extremely honored to be recognized by this august group. While my work as an architect and explorations in things visual and representational may have some quality to them, nothing excites me more than championing the importance of design in addressing the most poignant issues facing our society today. Through design we can work to be better stewards of our environment, promote social equity, strive for economic sustainability and achieve aesthetic delight.
Sketching and drawing are very selfish acts for me in that I feel most powerful when I can conceive the previously undiscovered notion on paper. It makes me feel omnipotent. Design, as I promote it, is more an act of invention than creation in that we combine existing materials, systems and ideas in ways often not previously conceived to address a unique need and potential. Sketching, drawing and invention are inseparable acts and are at the heart of what those of us involved in the design and planning do, and love to do.
Thus, it is an honor to be recognized for what I love doing both directly as a designer, and indirectly as a promoter of our craft!"
Tim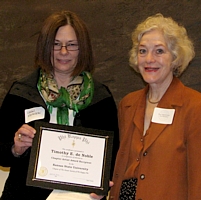 Lynn Ewanow and Mary Beth Kirkham
In Tim's absence, Lynn accepted the award.