Kansas State University and PrecisionHawk developing UAS app that predicts corn production
Wednesday, Sept. 16, 2015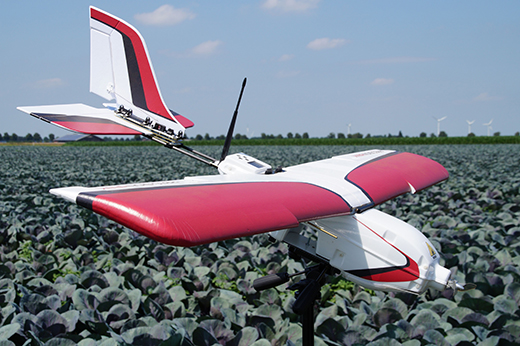 Kansas State University and PrecisionHawk Inc. are using the company's unmanned aerial systems to turn aerial images of corn fields and eventually other crops into apps and programs that tell farmers useful data about their crop and potential production issues. | Download this photo.


MANHATTAN — A research and technology development partnership between two of the nation's leaders in the unmanned aerial vehicles industry is taking flight.

Kansas State University recently signed a research partnership with PrecisionHawk Inc., a Raleigh, North Carolina, company that develops unmanned aerial systems, or UAS, and applications that manage the data collected by the vehicles while in operation. The partnership establishes the four-year project "Advancing an end-to-end solution for agricultural applications of unmanned aerial systems and remote sensing," which begins in September.

"Our newly formed partnership with PrecisionHawk really illustrates how targeted corporate-sponsored research can advance not only private sector interest, but also the university's mission of research, education and outreach at the same time," said Kent Glasscock, president of the Kansas State University Institute for Commercialization, which facilitated the research partnership. "Because of how well the partnership is tailored for these interests, it's a real win-win for both Kansas State University and PrecisionHawk."

"This relationship underscores the kind of interdisciplinary breadth the K-State 2025 vision encourages because it encompasses corporate engagement and the university's groundbreaking leadership in unmanned aerial systems education, research and operations," said Karen Burg, vice president for research and professor of chemical engineering. "Unmanned aerial vehicles are an emerging technology that will support precision agriculture, and Kansas State University's expertise in building and protecting global food systems makes us a great fit for this kind of collaboration."

Under the project, a Kansas State University agronomy expert and researchers at Kansas State University Salina are using their expertise to help PrecisionHawk create apps and programs that turn the aerial images of corn fields — and eventually other field crops — into useful data about a potential crop production issues, such as yield-limiting factor and characterization of yield potential, such as plant growth.

"There has been a big boom in UAS use and in the data being collected," said Ignacio Ciampitti, assistant professor of agronomy and the project's lead. "The key issue now is not whether this technology can collect the images we need, but how we can translate those pictures into scientifically sound and useful information. With this project we're creating tools that farmers and agronomists can use on these pictures to get information about a crop, such as its potential productivity, and then adjust their practices based on the tools' results."

Researchers at K-State Salina are conducting flights to determine what photo and video sensors work best to get the maximum information about a field while a vehicle is in flight.

Ciampitti is taking information from the images and helping develop algorithms that can be converted into computer software or apps for PrecisionHawk's Algorithm Marketplace, a recently launched app store with data analysis tools for the UAS market. The store is meant to simplify how UAS operators interpret data collected from a vehicle's geographic information system during flight. The marketplace currently has apps that include counting the plants in a field and estimating the plants' health once the crop matures.

The resulting app from the Kansas State University-PrecisionHawk partnership will be able to connect information collected via imagery with support decision tools to estimate yield response to varied management practices with the final goal of predicting site-specific yield potential. Ciampitti anticipates this technology also will be used to predict similar outputs for soybeans, sorghum and other crops.

"Kansas State University has an international reputation for excellence in agricultural research and an innovative approach in adopting new technologies," said Allison Ferguson, director of education and research partnerships at PrecisionHawk. "Aerial data is an exciting and new component of precision agriculture, but in order to leverage its full potential, growers need more than imagery from a UAV. Through this partnership, we are committed to the development of critical decision-support tools to provide growers with information to advance agricultural productivity through the Algorithm Marketplace."

Kansas State University and PrecisionHawk are both members of the Federal Aviation Administration's Center of Excellence for Unmanned Aircraft Systems.