University-city partnership brings veterinary medicine company to Manhattan
Tuesday, Sept. 1, 2015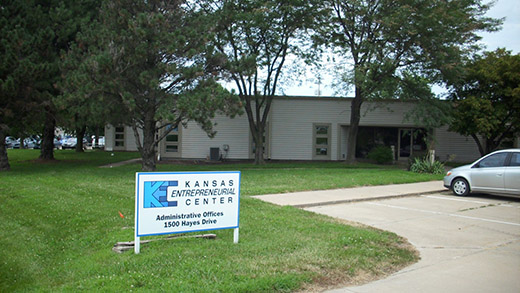 The Kansas Entrepreneurial Center in Manhattan, Kansas, is housing MediVet Biologics. In early October, the global animal health company is opening a lab in the center that will test and commercialize a Kansas State University technology that has potential for animal and human health applications. | Download the following photo.
MANHATTAN — A global animal health company is using animal health technology developed at Kansas State University to create a new laboratory in Manhattan.

MediVet Biologics, an animal health company in Australia and Kentucky that specializes in veterinary regenerative medicine and biological solutions for equine and small animals, is opening its Manhattan-based laboratory in early October. It will be the company's second U.S. lab and will be located in the city of Manhattan's Kansas Entrepreneurial Center on Hayes Drive, which is managed by the Manhattan Area Chamber of Commerce. MediVet has signed a short-term lease with the Kansas Entrepreneurial Center, or KEC, and is exploring options for a permanent facility in Manhattan.

MediVet's new lab is the result of an ongoing collaboration between the Kansas State University Institute for Commercialization, or KSU-IC, and the Manhattan Area Chamber of Commerce through its involvement in the Knowledge Based Economic Development partnership.

"We are pleased that the city and chamber were able to provide space in the KEC facility and are proud of the close collaboration with Kansas State University to attract MediVet to the community," said Lyle Butler, president and CEO of the Manhattan Area Chamber of Commerce. "These unique partnerships in our community create opportunities for innovative biological veterinary companies like MediVet to quickly establish a presence in Manhattan."

MediVet's Manhattan laboratory will focus on commercially producing and clinically testing an allogeneic stem cell therapy product that has the potential for orthopedic and internal medicine applications for both veterinary and human clinical use.

Mark Weiss, professor of anatomy and physiology at Kansas State University, invented the product.

"I'm very excited about having our commercialization of the product result in a local startup. It's going to help the local economy and biotech jobs," Weiss said.

Weiss' invention was patented by the Kansas State University Research Foundation, or KSURF, which handles research disclosures and the patent process, and was licensed by the KSU-IC, which works with public and private industries to license the university technology.

"This success story really speaks to the talent and innovation at Kansas State University," said Kent Glasscock, president of the KSU-IC. "Having a global animal health company spin up a lab in Manhattan underscores its interest in pursuing the type of quality research that we see happening at the university as well as the infrastructure the city has worked to create that makes Manhattan welcoming to entrepreneurs and new businesses."

Jeremy Delk, MediVet Biologics CEO, said the company's new lab in the Kansas Entrepreneurial Center would help it expand into the equine marketplace. It also would accelerate development and testing of a therapeutic canine cancer vaccine with Raelene Wouda, assistant professor of clinical sciences at Kansas State University, and would be a channel for future collaborations with researchers in the university's College of Veterinary Medicine.

"Our company has grown by providing veterinarians affordable, progressive treatment options for their patients," Delk said. "We envision this second laboratory facility as a place of education and collaboration and look forward to including the local and regional veterinary community in the continued development of our animal health product line."