Artist Stan Herd to give talk Sept. 3 at the Beach Museum of Art
Wednesday, Sept. 2, 2015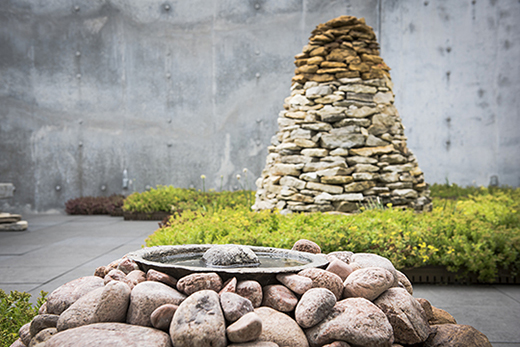 From "Cairns on the Beach," a temporary outdoor installation on display through spring 2017 at Kansas State University's Marianna Kistler Beach Museum of Art. | Download the following photo.




MANHATTAN — Stan Herd, the lead artist of the collaboratively designed exhibition "Cairns on the Beach" at Kansas State University's Marianna Kistler Beach Museum of Art, will discuss his work in an Artist's Talk at 5:30 p.m. Thursday, Sept. 3, at the museum.

The event is free and the public is welcome.

Inspired by Herd's encounter with stacked rock sculptures in woods near Lake Perry, "Cairns on the Beach" highlights the natural beauty of the region's geology and pays homage to the long history of built stone structures in Kansas. Throughout the fall 2014 semester, Herd worked with students from two Kansas State University departments — art, and landscape architecture and regional & community planning — to design and build the temporary outdoor installation. The second phase of "Cairns on the Beach," featuring a green planting, occurred in the spring 2015 semester. The installation will remain on display through the spring 2017 semester to allow visitors to view the work in a full range of seasons.

Herd, a Kansas artist, is best known for his work as a crop artist — arranging rocks, dirt and plants into compositions best seen from above. His work has been featured in major publications in 30 countries around the world and includes the Haskell Indian Nations University "Medicine Wheel"; "The Prairieman Earthwork" in Cowley County; the "Prairie Henge" stone monument in Chautauqua County on the Red Buffalo Ranch; the Amelia Earhart portrait in Atchison County; and the "Kansa Man Earthwork" design on the Johnson County Community College campus.

The Beach Museum of Art is on the southeast corner of the Kansas State University campus at the corner of Anderson Avenue and 14th Street. Admission is free. The museum is open 10 a.m. to 5 p.m. Tuesday, Wednesday, Friday and Saturday; 10 a.m. to 8 p.m. Thursday; and noon to 5 p.m. Sunday. Free parking is available adjacent to the building. For more information, call 785-532-7718 or visit http://beach.k-state.edu.