Kansas State University graduate receives Rotary scholarship to research drama therapy for women with post-traumatic stress disorder
Friday, Oct. 30, 2015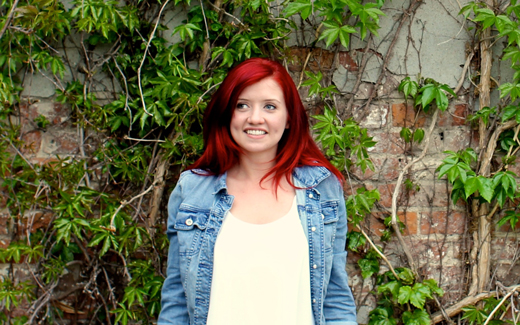 Jessica D. Muñoz, August 2015 master's degree graduate in theatre. | Download this photo.


MANHATTAN — A Kansas State University graduate will use drama therapy to help internally displaced women in Colombia with post-traumatic stress disorder.

Jessica D. Muñoz, August 2015 master's degree graduate in theatre with an emphasis in drama therapy, Albuquerque, New Mexico, received a $30,000 Rotary International Global Grant Scholarship to evaluate the effectiveness of trauma-centered group drama therapy with displaced women in Colombia.

Internally displaced people are similar to refugees in that they are forced to flee their home but they remain in the same country. According Muñoz, Colombia has the second largest population of internally displaced people in the world and about 60 percent are women and children.

"The emotional impact of displacement creates many challenges, such as the paralyzing effects of post-traumatic stress disorder, preventing people from rebuilding their lives," Muñoz said. "While few studies have measured the rates of PTSD in internally displaced people, recent clinical studies demonstrate that rates of PTSD among refugees range from 39-100 percent — compared to 1 percent in the general population."

Muñoz will work with Sally Bailey, professor and director of Kansas State University's drama therapy program, and Jorge Palacio Sañudo at the La Universidad del Norte in Colombia. The goal of the project is to help participants build a community of trust and empathy in a safe environment so they can share stories and heal. As the project progresses, researchers will measure the overall improvement in mental health, including the severity and frequency of PTSD symptoms.

"There is not enough research published yet on the effectiveness of drama therapy," Bailey said. "Yet, we know from our experiences — anecdotal though they may be — that drama therapy works extremely well for clients who have experienced trauma. I am so excited that Jessica will have the opportunity to research the efficacy of drama therapy with displaced women in Columbia."

The Global Grant Scholarship is awarded for graduate level academic studies and/or research, which must occur in a foreign country. The scholar completes classes, conducts research or a substantial project that aligns with one of Rotary's areas of focus.

"The interview and selection process for the scholarship is rigorous," said Rebecca Gould, co-chair of the scholarship committee for the Konza and Manhattan Rotary clubs and director of the university's Information Technology Assistance Center. "Jessica's research is unique and includes four of Rotary's six areas of focus — peace and conflict prevention/resolution, maternal and child health, basic education and literacy, and economic and community development — by providing training to professionals using her skills as a drama therapist."

Muñoz is a member of the North American Association of Drama Therapy. She worked as a refugee advocate for the Refugee Well-being Project at the University of New Mexico and was a student delegate for the United Nations Commission on the Status of Women in New York. She completed a residency at the Post Traumatic Stress Center in New Haven, Connecticut, was a site leader for the Manhattan chapter of Hollaback! and a facilitator for Kansas State University's Center for Advocacy Response and Education. She will start the research in February 2016 in Barranquilla, Colombia.

"It is critical that innovative ways to address the trauma of displacement are developed and integrated into systems of crisis intervention," Muñoz said. "The development of trauma-centered group drama therapy holds the potential to improve the collective and personal psyches of female internally displaced people in Colombia and across the globe."

Muñoz is the daughter of Edward and Kellie Northam, Omaha, Nebraska.