Registered veterinary technician at Kansas State University discovers, publishes about tapeworm parasite in maned wolf at local zoo
Friday, Oct. 9, 2015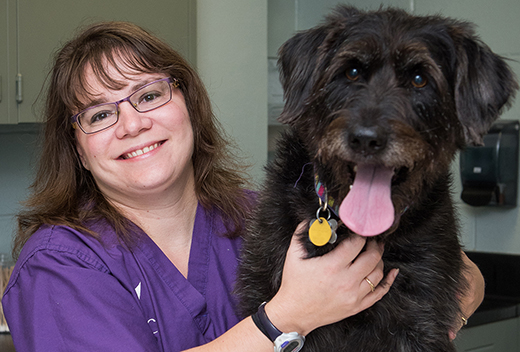 Registered veterinary technician Christine Hackworth at Kansas State University's Veterinary Health Center recently published an article in a prestigious zoo and wildlife journal about the discovery of a tapeworm parasite in a maned wolf at a Manhattan zoo. | Download the following photo.
MANHATTAN — A tapeworm parasite more typically found in domestic dogs and cats has been discovered in a maned wolf from Manhattan's Sunset Zoo.

The discovery, thought to be the only known incidence of the parasite in a maned wolf, was made not by a faculty veterinarian or researcher, but by a vigilant registered veterinary technician in the Veterinary Health Center at Kansas State University's College of Veterinary Medicine: Christine Hackworth. This class of tapeworm parasites are called Mesocestoides.

Hackworth works in the zoological medicine and dermatology sections of the Veterinary Health Center. Her findings are in the latest issue of the Journal of Zoo and Wildlife Medicine.

"I happened to come across it in a fecal sample submitted for testing," Hackworth said. "I dissected a tapeworm segment that was present on the feces. This is the first reported case in a live captive animal, so it was just by luck that I found it, but I knew it was something worth pursuing."

David Eshar, assistant professor of companion exotic pets, wildlife and zoo animal medicine, helped review and co-author Hackworth's discovery.

"Veterinary care of zoo animals is becoming more and more sophisticated and requires teamwork and the joined skills of the animals' keepers, veterinarians and veterinary technicians," Eshar said. "Christine is a well-trained and highly experienced veterinary technician who shares the Veterinary Health Care's responsibility for the welfare of Sunset Zoo animals. In this maned wolf case, her exceptional knowledge of veterinary parasitology played a pivotal role in the identification and treatment of this unusual intestinal infection."

"Christine exemplifies the very best in the excellent team of veterinary technicians who provide care for patients in the Veterinary Health Center," said Shirley Arck, administrator of the Veterinary Health Center. "We are so pleased and proud that her outstanding work has been recognized by the community of experts in zoo animal medicine."

Two other co-authors contributed to Hackworth's article: Dana Lindemann, a veterinarian intern at the Veterinary Health Center, and Michael Dryden, university distinguished professor of veterinary parasitology in the College of Veterinary Medicine.

"Sharing the gained knowledge and clinical experience with our peers via the scientific literature is imperative and contributes to the growing body of knowledge on the management of this unique species," Eshar said. "Every submitted manuscript is reviewed by at least two professionals, so the fact that Christine's report was accepted and published shows the high quality of her work. Not many can get a submission accepted into this one and only zoo medicine journal."