Kansas State University College of Veterinary Medicine announces 2015 class of Early Admission Scholars
Wednesday, Nov. 18, 2015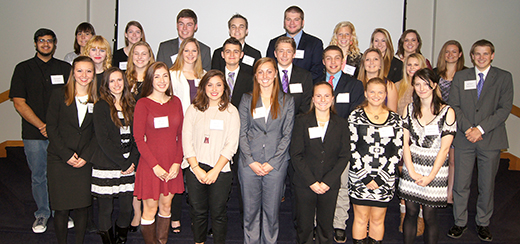 Members of the Kansas State University College of Veterinary Medicine's 2015 class of Early Admit Scholars. Back row, from left: Ellie Holtaway, Alexandra Davis, John Sharpe, Chadron Koehn, James Kice III, Grace Davis, Sarah Rogg and Valerie Klassen. Second row: Ravneet Dhillon, Brooke Bailey, Emma Harding, Molly Jaax, Eric Charboneau, Jackson Ralston, Lane Forge, Sarah Myers, Hannah Grosko, Breanna Fox and William Patterson. Front row: Kristin Reichert, Daria Hagan, Molly Roach, Hallie Lucas, Jaylin Rieck, MaRyka Smith, Madison Ludewig and Katherine Rettmer. | Download this photo.
MANHATTAN — Friday the 13th was a lucky day for 27 Kansas State University undergraduate students who share a passion for animal health. The College of Veterinary Medicine welcomed these students into its Early Admission Program at an afternoon ceremony in the Mara Conference Center in Trotter Hall.

Since being established in 1999, the Early Admission Scholars program has recruited the best and brightest undergraduate students who want to study veterinary medicine. After acceptance into the program, satisfactory completion of the 64 hours of preprofessional requirements, and at least three years of undergraduate work at Kansas State University, the scholars are guaranteed admission into the College of Veterinary Medicine.

"Qualifying for this program is very special because there are hundreds of applicants yearly for only a limited number of positions," said Ronnie Elmore, the college's associate dean for academic programs, admissions and diversity programs. "These students represent the top 5 percent of Kansas State University students according to their college acceptance test scores. Being selected into the Early Admission Scholars program gives them the advantage of bypassing the regular applications process, which is very competitive. For only 112 positions in each incoming veterinary class, we usually receive more than 1,000 applications."

Successful candidates in the Early Admission Scholars program must maintain a 3.4 grade point average during completion of the preprofessional requirements. At the beginning of the third year of their undergraduate studies, these scholars may petition for enrollment in the first year of the Doctor of Veterinary Medicine degree program.

The College of Veterinary Medicine assigns a veterinary student mentor to each Early Admit Scholar to stimulate career and academic development and to provide orientation and access to college activities. The pre-veterinary students attend regular meetings during the academic year to develop a sense of community and share their progress.

The following students are members of the 2015 class of Early Admission Scholars:

From Greater Kansas City: Katherine Rettmer, Leawood; Breanna Fox, Lenexa; Sarah Myers and Sarah Rogg, both from Olathe; Alexandra Davis, Hannah Grosko and Jackson Ralston, all from Overland Park; Molly Roach, Shawnee; and Grace Davis, Stilwell.
William Patterson, Holton; MaRyka Smith, Hoyt; Hallie Lucas, Leavenworth; Eric Charboneau, Lebo; Valerie Klassen, Lehigh; James Kice III, Richmond; Lane Forge, St. George; Brooke Bailey, Tecumseh; and Daria Hagan and Molly Jaax, both from Wichita.

From out of state:

Ellie Holtaway, Carlsbad, California; Ravneet Dhillon, Covina, California; Jaylin Rieck, Hartley, Iowa; Chadron Koehn, Marshall, Missouri; Madison Ludewig, Lancaster, Pennsylvania; John Sharpe, Fredericksburg, Texas; Emma Harding, Southlake, Texas; and Kristin Reichert, Brookfield, Wisconsin.