Kansas State University's Powercat Financial Counseling receives a financial boost

Monday, May 11, 2015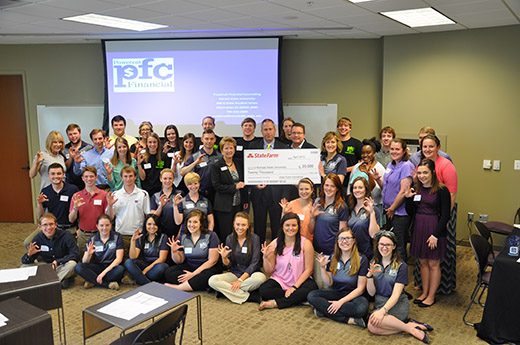 Representatives from State Farm Insurance and Kansas State University's Powercat Financial Counseling, including the service's peer financial counselors, with a check for $20,000 from State Farm to benefit the free financial counseling service for students at the university. | Download this photo.


MANHATTAN — State Farm Insurance, through the Kansas State University Foundation, recently awarded a $20,000 State Farm Good Neighbor Citizenship Grant to Kansas State University's Powercat Financial Counseling.

The grant is awarded to organizations that foster service-learning opportunities and personal financial education such as the university's Powercat Financial Counseling. Since 2009, the program has provided students with free financial counseling and education via a peer model where trained peer financial counselors assist fellow students.

State Farm has previously provided grants to Powercat Financial in each of the last three years. This year's amount was the largest grant State Farm has provided to Powercat Financial.

"The State Farm grant have been critical in supporting the growth and demand our financial education program has experienced year after year since its inception in 2009," said Jodi Kaus, director of Powercat Financial Counseling. "We are extremely appreciative of State Farm's support and interest in our financial education program."

Powercat Financial Counseling will use the money to assist peer financial counselors and a graduate assistant to oversee and help train the peer financial counselors. The support also will allow Kaus to enhance marketing efforts and financial education outreach provided by the PFC Student Advisory Board. More information about PFC can be found at http://www.k-state.edu/pfc.