Memorial Day ceremony on campus to honor Vietnam War's 50th anniversary

Monday, May 18, 2015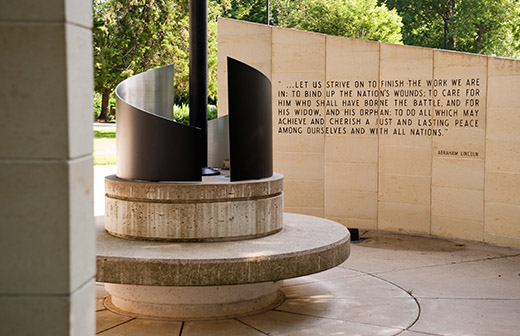 Kansas State University will host a May 25 ceremony to commemorate Memorial Day and the 50th anniversary of the Vietnam War. | Download this photo.


MANHATTAN — Kansas State University will host a special on-campus ceremony to commemorate Memorial Day and the 50th anniversary of the Vietnam War.

The ceremony starts at 2 p.m. Monday, May 25, in front of the university's Vietnam Veterans Memorial. Media and members of the community are invited to attend the ceremony, which will include motorcycle riders and remarks from campus and community veterans. The memorial is on the southeast side of campus, directly east of All Faiths Chapel.

The university is among the academic institutions selected to partner with the U.S. Department of Defense to commemorate the Vietnam War's 50th anniversary with events from 2015 to 2017.

"We are bound by duty and humbled by our responsibility to remember the 42 fallen Kansas State University students who committed their lives to serving our nation during the Vietnam War," said retired Army Lt. Col. Art DeGroat, the university's executive director of military and veterans affairs. "While our K-State Vietnam Memorial stands in honor to these fallen students every day on our campus, we as a grateful people need to assemble to hear their names be spoken in memorial so that we shall never forget them."

For the Memorial Day ceremony, motorcycle riders will leave the Manhattan Town Center parking lot at 1:30 p.m. and arrive by 2 p.m. in the parking lot adjacent to the university's Vietnam Veteran's Memorial.

The ceremony will include an introduction from retired Col. Mike McDermott, the university's Vietnam commemoration chairman, and remarks from Ron Trewyn, the university's NBAF liaison and a Vietnam veteran.

The 5th squadron 4th cavalry regiment will post the colors. Vietnam veteran Tom Fryer will read the names of the 42 Vietnam veterans inscribed on the university's memorial and Vietnam veteran Chuck Tannehill will play taps.

KTWU's "Sunflower Journeys" will film the ceremony and air an episode about the event.