Digging deep: Students help visitors discover purple roots at K-State's All-University Open House
Wednesday, March 2, 2016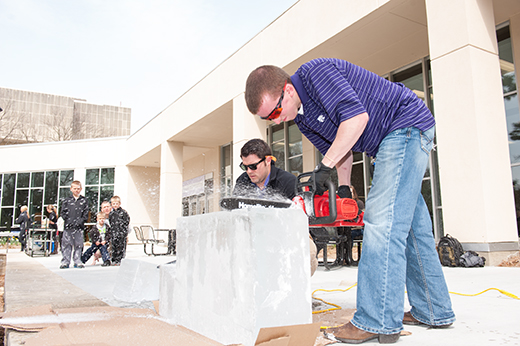 Carving ice sculptures is just one of the many activities offered at the All-University Open House at Kansas State University's Manhattan campus, which is organized with the help of K-State students. This year's open house will be Saturday, April 16, on the Manhattan, Olathe and Polytechnic campuses. | Download this photo.


MANHATTAN — A group of Kansas State University students is helping visitors uncover their purple roots at this year's All-University Open House. On Saturday, April 16, the yearlong work of the event's student core coordinating committee will pay off with a day of fun and exploration.

Students from disciplines across campus are volunteering in different capacities for this year's open house, which will take place from 9 a.m. to 3 p.m. in Manhattan and from 9 a.m. to 2 p.m. on the Olathe and Polytechnic campuses. Open house is an annual event to show the public and prospective students the excitement of the Kansas State University experience, and students play a big role in its organization.

"We're very proud of our student leaders," said Emily Lehning, assistant vice president for student life. "Open house is an excellent opportunity to showcase and enhance our students' leadership and academic achievements. Open house brings together our students, faculty and staff for a fun and educational day."

Interactive displays, enjoyable activities, games, informational booths and more will highlight all aspects of Kansas State University — including student life, research and academic programs — while celebrating the university's rich history and traditions.

This year's open house theme is "rooted in purple," and emphasizes the K-State family's commitment to their university, communities and successful futures. Zach May, student co-coordinator and a senior in industrial engineering, Independence,said the committee is a dedicated group of students who are excited to welcome guests to campus.

"This is a team from a variety of majors that has a real desire to be involved at K-State," May said. "Our open house is one of the best around, thanks to our team's hard work and Dr. Lehning's guidance."

Co-coordinator Shannon Oakley, senior in secondary education, Manhattan, added that Open House was a highlight of her childhood, so she relished the opportunity to help bring the event to life.

"Open House is such a unique event in that it is driven by students," Oakley said. "Alumni, current and prospective students, and friends of the university get to come together for a day to explore what it means to be rooted in purple."

Joining May and Oakley on the All-University Open House Coordinating Committee and in other leadership roles throughout campus are the following students:

Braden Mishler, sophomore in biological systems engineering, Arnold; Katie VanDever, senior in communications studies, Augusta; Cole Mulch, freshman in chemical engineering, Ellinwood; Lindy Bilberry, senior in agricultural economics, Garden City.

From Greater Kansas City: Kelsey Dowers, junior in kinesiology, Olathe; Natalie Kilgore, sophomore in elementary education, Overland Park; and Drew Bormann, sophomore in finance, Stilwell.

Anna Meissbach, sophomore in history, Lawrence; Kenan Reeh, junior in agricultural economics, McDonald; Regan Bartels, junior in family studies and human services, Philipsburg; Gage Nichols, sophomore in animal sciences and industry, Russell; Mark Johnson, senior in education, and Austin Krug, senior in chemical engineering, both from Topeka; and Amy Matlick, sophomore in secondary education, Wichita.

Students are responsible for planning many aspects of open house, including coordinating with colleges and departments, arranging entertainment, developing the theme and much more. Learn more about open house at k-state.edu/openhouse.