Kansas State University student receives leadership award at national veterinary conference
Wednesday, March 30, 2016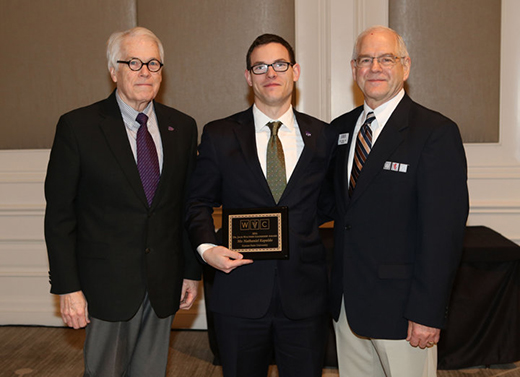 Ronnie Elmore, associate dean for academic programs, admissions and diversity programs at the Kansas State University College of Veterinary Medicine, left, congratulates third-year student Nathaniel Kapaldo, center, along with Western Veterinary Conference President Jon R. Pennel, on receiving a 2016 Dr. Jack Walther Leadership Award.| Download this photo.


MANHATTAN —A third-year veterinary student from Kansas State University's College of Veterinary Medicine is being nationally recognized for leadership.

Nate Kapaldo, Springfield, Virginia, has received the Dr. Jack Walther Leadership Award from the Western Veterinary Conference. Kapaldo was one of 33 students chosen nationwide based on accomplishments, scholastic excellence and long-term leadership potential. Recipients receive a $1,000 award, complimentary registration, lodging, airfare and a daily stipend to attend the 2016 conference, which was in Las Vegas, March 6-10.

"Dr. Walther, a late president of the American Veterinary Medical Association, was an enormous advocate for students and his passion for developing leadership among young veterinarians was inspiring," Kapaldo said. "This experience at the Western Veterinary Conference further reminded me that, whether we shortly realize it or not, veterinarians are all leaders, both in their clinic and in their community. Interacting with the other awardees from North American veterinary schools was humbling, showing me how rich the future veterinary field is with talent and passion for animal and human health."

In addition to graduating in spring 2017 with a Doctor of Veterinary Medicine degree, Kapaldo plans to complete a Master of Public Health degree concurrently. He also is a medical service officer in the U.S. Army Reserves. Kapaldo earned his bachelor's degree at Slippery Rock University in Pennsylvania where he is actively working with students who are interested in attending veterinary college.

Since inception of the scholarship program in 2002, the Western Veterinary Conference has granted approximately $1 million in scholarship funds. The Dr. Jack Walther Leadership Award recognizes veterinary student leaders and promotes lifelong professional service to the industry.