Kansas State University's Black Student Union again best in Big 12
Thursday, March 3, 2016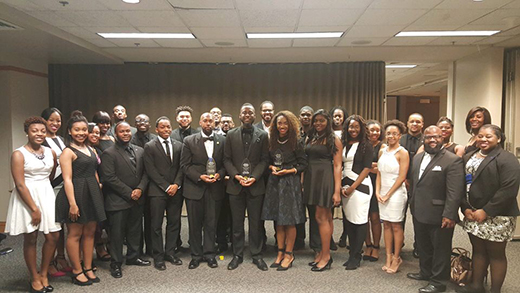 Members of Kansas State University's Black Student Union who attended the 39th annual Big 12 Conference on Black Student Government gather for a portrait with their awards. | Download this photo.
MANHATTAN — Once again, Kansas State University's Black Student Union, or BSU, is the best in the Big 12 Conference.

For the eighth time in 11 years, the university's Black Student Union was awarded the Clarence Wine Award for Outstanding Big 12 Council of the Year at the 39th annual Big 12 Conference on Black Student Government, Feb. 25-27, at the University of Kansas.

"Our BSU has consistently been one of the top BSUs in the country," said Brandon Clark, who was named the Most Outstanding Black Student Union Adviser in the Big 12 at the conference. "Eight awards in 11 years is not an accident."

The most outstanding Black Student Union is selected by a grading process of a book and presentation that each BSU's delegates assemble to exhibit their organization's accomplishments, such as hosting programs, bringing in speakers and improving recruitment and retention.

Kansas State University's Black Student Union, which has about 90 members, received a third award at the conference: the Mordean Taylor Archer Most Outstanding Executive Board Member Award. Justice Davis, senior in marketing, Kansas City, Missouri, received the award for her vision, dedication and hard work as an executive member of the council.

"Justice is a whole other level of leader. She's something special. I've worked with the greatest and she is one of them," said Bryon Williams, adviser of Kansas State University's BSU and assistant director of undergraduate admissions.

Williams cited Davis' poise in presenting, detail-oriented mindset and knack for "getting buy-in" from members and administrators as mainstays of her leadership skillset.

"In terms of a 'complete package' leader, I don't think you'll find a better person," Williams said.

Davis said her four years in Black Student Union have been a great run. "It's been amazing to witness the consistency of the group," she said.

Clark, who has worked with the Black Student Union for 20 years and is program assistant for Kansas State University's Office of Diversity, offers guidance to students and is intentional about giving his time to activities that promote the organization's four pillars: academic stability, political action, leadership and black culture.

"I'm happy that Justice won and that our overall BSU won, with the leadership of Muenfua Allen Lewis as BSU president," Clark said. "I'm surprised, humbled and honored to receive the adviser award."

Lewis is a senior in finance from Olathe.

Zelia Wiley, interim associate provost for the Office of Diversity, said the awards show that the Black Student Union works hard at increasing diversity awareness at the university.

"I'm really proud of our students and advisers," Wiley said. "The Office of Diversity supports the BSU and all of our multicultural student organizations 100 percent."

Williams said the recent awards not only show the achievements of Kansas State University's Black Student Union, but also the progress of the university as a whole.

"K-State attracts the best student leaders in the country," he said. "K-State students winning national awards is not anything new. I think that it just speaks to the brand of the K-State family."

As the university advances in reaching the goals of its 2025 visionary plan, Clark said he hopes K-State will continue to be the No. 1 choice of multicultural students in the state.

Lewis said Black Student Union leaders are excited about the award and will continue to uplift the university community and empower students.