K-State team takes honorable mention honors in Phillips 66 Business Ethics Case Competition

Thursday, March 5, 2015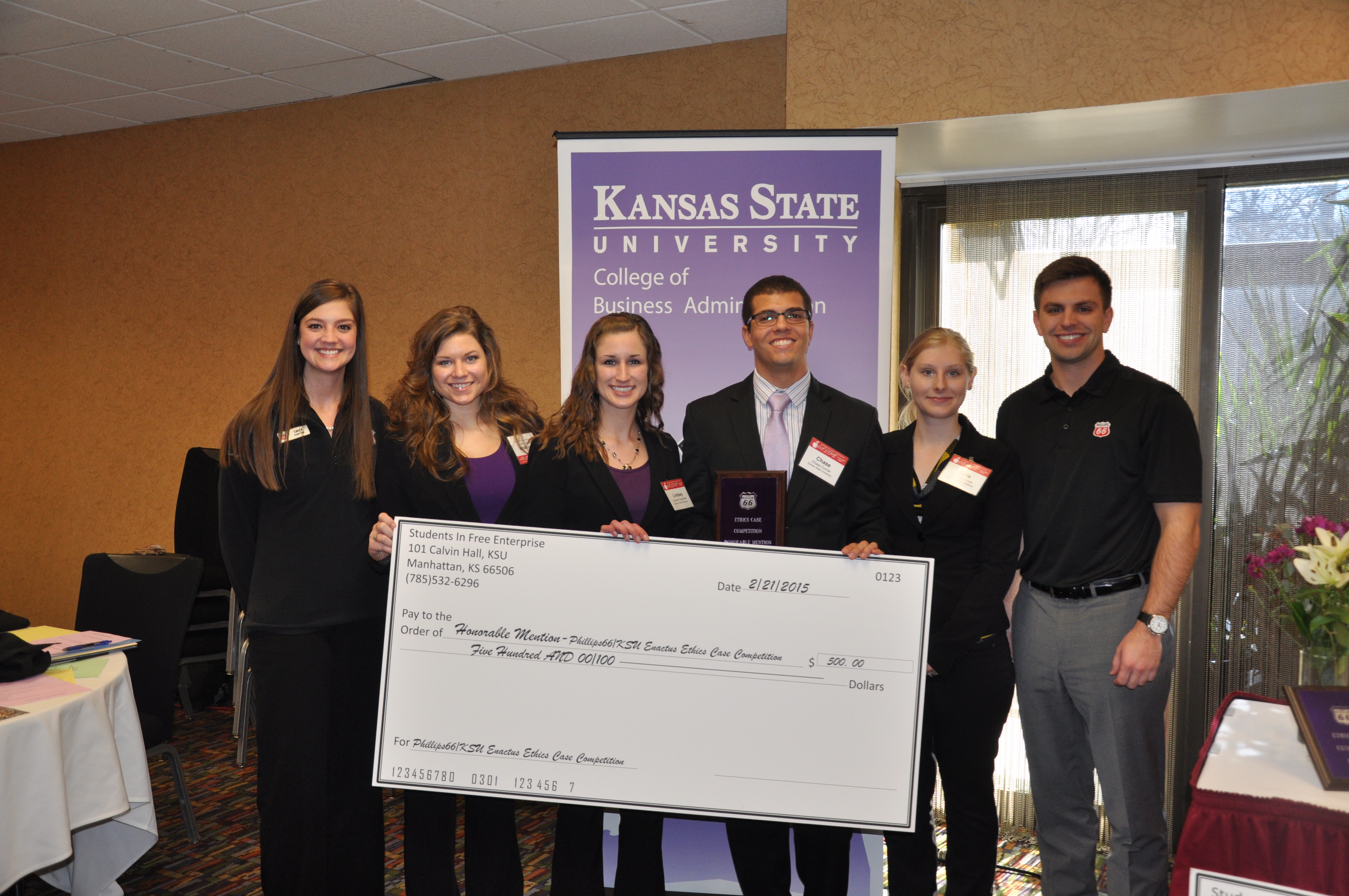 Phillips 66 representatives award the honorable mention check to the Kansas State University team. | Download this photo.


MANHATTAN — A team of four Kansas State University College of Business Administration students was awarded a $500 cash prize after receiving the honorable mention award at the recent Phillips 66-Enactus Business Ethics Case Competition.

The competition saw several teams from universities around the region come to Manhattan for the two-day competition. The University of Oklahoma team took home top honors and a $2,000 grand prize, while Truman State University finished second, with Iowa State rounding out the top three.

"We appreciate the generosity of Phillips 66 in making the ethics case competition possible," said William Turnley, interim department head for the department of management and Sam and Karen Forrer chair in business ethics. "We think it is critically important that business students understand why it is necessary for organizations to focus on both financial and ethical objectives."

Enactus is a nonprofit, global organization that uses entrepreneurial action to create and implement community outreach projects around the world. At the competition, the four-member student teams had 36 hours to analyze a problem, plan a solution and present a professional PowerPoint for the judges. Teams were judged on three different components: the application of the ethical principles, business consideration and presentation skills.

The Kansas State University team included Lindsey Campbell, senior in management, Manhattan; Chase Currier, junior in management, Overland Park; Amanda Henke, senior in management, Tipton; and Kylie Hardman, junior in human resource management, Topeka.

"The teams did an excellent job of analyzing the case, and it was interesting to see that each team approached the issue a little differently and that they all came up with a different recommendation for how the organization should proceed," Turnley said. "That outcome highlights the fact that this type of competition helps to build critical thinking skills, and it also illustrates there is rarely only one solution to business problems."