Kansas State Polytechnic expands unmanned commercial flight training program with North Dakota's SkySkopes as first national client
Thursday, June 9, 2016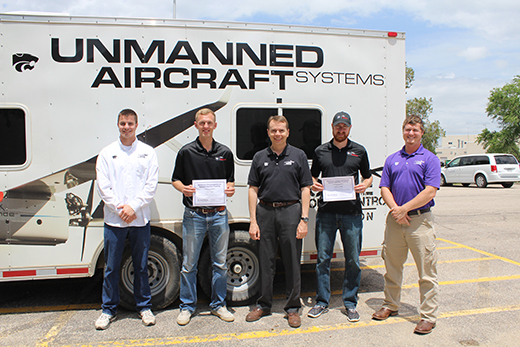 Two unmanned aerial vehicle, or UAV, pilots with North Dakota company SkySkopes receive their multirotor certificate after completing Kansas State Polytechnic's professional flight training course, offered under one of the program's Section 333 exemptions. From left: Spencer Schrader, junior in unmanned
aircraft

systems, or UAS, at Kansas State Polytechnic and flight instructor; Cory Vinger, UAV pilot with SkySkopes; Kurt Carraway, executive director of Kansas State Polytechnic's UAS program; Andrew Schill, lead instructor pilot with SkySkopes; and Travis Balthazor, senior UAS flight instructor at Kansas State Polytechnic. | Download this photo.



SALINA — After debuting its inaugural flight training course to unmanned aircraft systems students in January, the UAS program on Kansas State University's Polytechnic Campus is expanding that offering to now include its first national professional client.

Under the Section 333 exemption received from the Federal Aviation Administration in fall 2015, Kansas State Polytechnic's UAS program is providing SkySkopes, located in Grand Forks, North Dakota, with multirotor flight training to help develop their pilots' skills and ensure safe operations. SkySkopes, a leader in the upper Red River Valley for unmanned flight services specializing in aerial cinematography, industrial inspection and agriculture, is sending 10 UAV pilots to Kansas State Polytechnic throughout the summer to take the intensive, five-day course based on the school's undergraduate curriculum, with some customization for SkySkopes' needs.

"We are thrilled to assist an impressive company like SkySkopes with taking its operational goals and technology to the next level," said Kurt Carraway, executive director of Kansas State Polytechnic's UAS program. "Broadening our reach beyond the state of Kansas to instruct UAS professionals establishes another milestone in our program and demonstrates our reputation in the industry as an innovative leader."

Matt Dunlevy, who started SkySkopes about two years ago, contacted Kansas State Polytechnic's UAS program after learning about its approval from the FAA to provide UAS commercial flight training. Along with building upon his employees' UAS education, Dunlevy wants to put safety at the forefront of their services.

"We want to brand ourselves as a company with a serious culture of flight safety, and one of the best ways to do that is to get as much safety training and actual hands-on flight instruction as possible," said Dunlevy, who also serves as president and CEO of SkySkopes. "With the program having a large flight pavilion and receiving the first 333 exemption in the country for commercial flight training, that made Kansas State Polytechnic who we wanted to work with."

Two of SkySkopes' pilots have already completed the multirotor training course. Before traveling to Salina, they began with an open book exam over a variety of written materials, such as the Kansas State University UAS standard operating procedures, a flight operations manual and the FAA-issued 333 exemption. Once on campus, the students engaged in a two-hour classroom session and visual observer training.

The interactive flight instruction is delivered inside Kansas State Polytechnic's 300-feet-long by 200-feet-wide and 50-feet-tall netted flying pavilion as well as out in the field. SkySkopes' pilots worked on advanced maneuvers as an external pilots, also known as stick and rudder skills; practiced employment of the system using the S-1000's autopilot; built flight plans using the ground control station; and improved upon their communication techniques. Throughout the course, the two pilots were given a series of "stage checks" at different phases of the training and were given a final check ride, similar to the rigor of manned pilot training programs. After completion, the SkySkopes pilots were awarded a Kansas State Polytechnic UAS multirotor certificate.

The multirotor training course for industry partners is derived from the flight training curriculum developed for Kansas State Polytechnic's UAS students, which began in the 2016 spring semester as a special topics course. The full flight training program will start in fall 2016 and is modeled after the campus's manned professional pilot program. Students progress through multirotor training and multirotor instructor to fixed-wing operations and finally fixed-wing instructor. Just as professional pilot students can become certified flight instructors teaching their peers to fly, once a UAS student reaches a certain rating, he or she can act as an instructor in the entry-level flight courses.

"Kansas State University's Polytechnic Campus has a deep-rooted history in aviation, and our 333 exemption has allowed the UAS program to leverage the training experience on the manned side to create and implement flight courses for unmanned students and now outside companies," Carraway said. "In a climate where we don't yet have FAA regulations on airmen certification, we are able to contribute to the industry by providing and promoting safe operations and relevant education."

"The UAS industry is strongly supported in North Dakota and we see the training between SkySkopes and Kansas State Polytechnic as a way to bridge the two states and even enhance the relationship between K-State and the University of North Dakota, who have the two most dominant UAS programs in the United States," Dunlevy said.

Along with helping SkySkopes, Kansas State Polytechnic's UAS program has conducted a half-day flight training course for hobbyists and has been collaborating with Kansas electric utility company, Westar Energy, on commercial flight training as well as research projects.

Companies interested in UAS commercial flight training, program development or research can see all of the services available through Kansas State Polytechnic at http://polytechnic.k-state.edu/profed/uas or by contacting Carraway at 785-826-2624 or kcarraway@k-state.edu.