In bloom: University librarian's book about wildflowers and weeds takes root on list of state's best books
Monday, June 13, 2016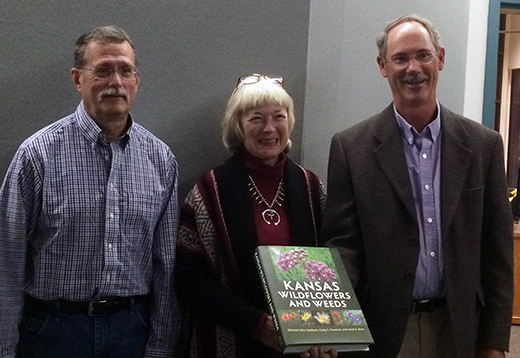 The authors of "Kansas Wildflowers and Weeds" — Michael John Haddock, left, Janét E. Bare, center, and Craig C. Freeman — worked on the book together for more than five years, but they never all met face-to-face until this book signing and co-presentation at the Great Plains Nature Center in Wichita on Nov. 13, 2015. | Download this photo.


MANHATTAN — "Kansas Wildflowers and Weeds," a book by Michael John Haddock, assistant dean of K-State Libraries at Kansas State University, has been selected as a 2016 Kansas Notable Book.

The Kansas Notable Books List is the annual recognition of 15 outstanding titles either written by Kansans or about a Kansas-related topic.

Haddock was the lead author on the project. His co-authors, Craig C. Freeman and Janét E. Bare, gathered 35 years of new information discovered since the publication of Bare's 1979 volume, "Wildflowers and Weeds of Kansas."

The expanded work covers 1,163 species — representing about 56 percent of the native and naturalized species currently known in Kansas — as well as 742 color photographs.

"Craig, Janét and I are truly honored to have 'Kansas Wildflowers and Weeds' selected as a 2016 Kansas Notable Book," Haddock said. "It is wonderful to receive this recognition for a project on which we have such a deep connection."

The five-year project was a long-distance collaboration between the authors who live in three separate communities in two states. It also required interinstitutional collaboration between Kansas State University and the University of Kansas.

"Kansas Wildflowers and Weeds" includes up-to-date nomenclature, keys and descriptions, as well as habitat, distribution and ecological information. Importantly, the publication also brings names and taxonomic information into line with recent revolutions in studies of DNA, macro- and micromorphology, cytology, ecology and phenology.

Haddock is the author of "Wildflowers and Grasses of Kansas: A Field Guide," published by the University Press of Kansas. The Kansas Center for the Book selected it as a 2006 Kansas Notable Book, and the State Library of Kansas named it one of the "150 Best Kansas Books" in 2011 as part of the state's sesquicentennial celebration.

A committee of academics, librarians and authors of previous Notable Books identifies quality titles from among those published the previous year, and the state librarian makes the selection for the final list. A medal awards ceremony honors the books and their authors.

Kansas Notable Books is a project of the Kansas Center for the Book, a program of the State Library. Throughout the award year, the State Library promotes and encourages the promotion of all the titles on that year's list at literary events, and among librarians and booksellers.

For a complete look and more information on the 2016 Kansas Notable Book selections, go to http://kslib.info/1276/2016-Notable-Books.