Celebrating its first anniversary, College of Veterinary Medicine's Mobile Surgery Unit on the roll and saving pets' lives
Friday, June 10, 2016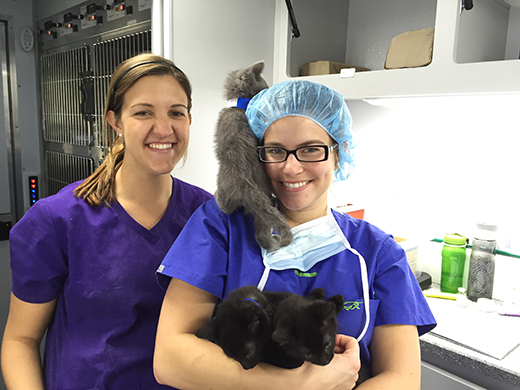 Staff of Kansas State University's Shelter Medicine Mobile Surgery Unit with some of their feline patients. | Download this photo.


MANHATTAN — A little over a year after first hitting the road, Kansas State University's Shelter Medicine Mobile Surgery Unit has performed thousands of surgeries, helped a dozen animal shelters save on veterinary care costs and has drawn attention to the plight of homeless animals.
The Mobile Surgery Unit took its maiden trip on May 9, 2015, with the College of Veterinary Medicine's Brad Crauer, clinical assistant professor of clinical sciences; three fourth-year veterinary students; and a veterinary technician along to spay and neuter unowned pets at an area shelter. Students spend two weeks on the mobile unit rotation, providing surgery and veterinary care at no cost to participating shelters.
The Mobile Surgery Unit spent 218 days on the road in its first year and performed around 3,500 surgeries. For each trip, students packed and loaded the 32-foot trailer — which sports the university's Powercat logo, university word mark and the slogan "Future Vets Helping Future Pets" — with supplies for the day. The students use the up to two hours in travel time to reach participating shelters for classes and lectures to improve their knowledge of shelter medicine, procedures and the unique aspects of working with unowned animals.
Once the unit arrives at the shelter, the students perform surgeries under the guidance of Crauer and Ron Orchard, a licensed veterinary technician. They also tour the facilities and have consultations with shelter managers before returning home, only to start again the next day.
The Mobile Surgery Unit regularly visited 12 area shelters within a two-hour radius of Manhattan over the past year. The experience exposes students to each shelters' unique processes and challenges, Crauer said. The shelters are in Clay Center, Emporia, Junction City, Lawrence, Louisburg, Manhattan, Ottawa, Salina and Topeka in Kansas. The unit also travels to a shelter in Beatrice, Nebraska.
"By the end of the rotation, we hope the students have gained a greater knowledge and appreciation for shelter medicine and use that to make a difference in the communities they become a part of after graduation," Crauer said.

"The impact of this program for students is truly remarkable," said Kyla Krissek, shelter medicine intern. "Not only do we have the opportunity to strengthen our surgical skills, but more importantly, we learn about different shelter missions, the obstacles shelters face every day, and how we as veterinarians can become advocates for homeless animals in our communities."

Students are not the only beneficiaries. Veterinary care, especially spays and neuters, make up a large portion of a shelter's operating expense. Since the students perform surgery at no cost, shelters are saving between $50-$175 per animal, a significant savings when considering hundreds of animals, Crauer said. Shelters also have the advantage of regular professional consultations from Crauer and his team.

For Prairie Paws Animal Shelter in Ottawa, the regular visits by the Mobile Surgery Unit made a big difference in the shelter's viability.

"The partnership with K-State was tremendous for us," said Melissa Reed, executive director. "I don't have data to prove it, but I do think that if we had not had that relationship with K-State, we would not be here today."

The program has already expanded to include not only shelter pets, but also stray cats in a trap, neuter and release initiatives. Crauer says the unit's spay and neuter services help prevent unwanted pregnancies in cats.

"The success of the program and its impact on the students, shelters and the pets in communities across central Kansas has been amazing," Crauer said. "We expect the shelter medicine program to continue to grow and do even more in the coming year."
The Mobile Surgery Unit is supported by private gifts and a grant from PetSmart Charities. To help support the unit, contact the Veterinary Health Center at Kansas State University by calling Kristin Loving at 785-532-4046.