The choice for Kansas: Kansas State University tops ranking of state's best universities
Thursday, July 14, 2016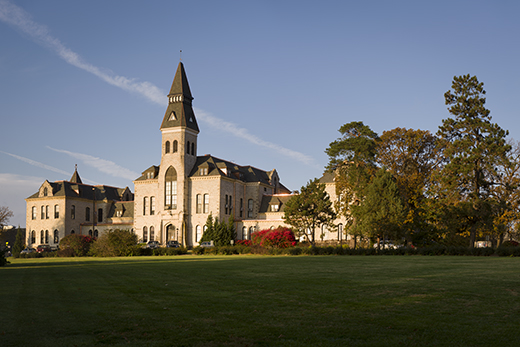 Kansas State University ranks first on Money magazine's list of best colleges in Kansas. Pictured is Anderson Hall, the university's iconic main administration building. | Download this photo.


MANHATTAN — When it comes to the best place in Kansas to get a college education, Money magazine says it's Kansas State University.

The home of the Wildcats and purple pride is the highest-ranking university from Kansas on the magazine's annual list of best colleges and its list of best colleges by state. The article notes that K-State is one of the first land-grant colleges in the nation; offers more than 250 majors and options through its nine colleges; works closely with military members and their families; and is nationally recognized for such programs as K-State Proud, the student-run philanthropy that has raised more than $1 million to help Kansas State University students in need.

With campuses in Manhattan, Olathe and the polytechnic campus in Salina, as well as K-State Global Campus for distance education, K-State leads the way in Kansas by providing options in higher education that fit the needs of any student, said Pat Bosco, vice president for student life and dean of students.

"K-State is the college of choice among Kansas high school seniors and the largest undergraduate university in the state, so we're not surprised to be ranked as the best college in Kansas by Money magazine," Bosco said. "With our nationally ranked programs, outstanding faculty and staff, and services that help students achieve and succeed, K-State is known for its family atmosphere and as a place where students from Kansas and across the nation and world can thrive."

Bosco also said K-State leads the state's universities in freshmen-to-sophomore retention rates, helps students afford college by awarding more than $230 million annually in financial aid, and encourages students to get involved through its more than 475 student organizations, active Student Governing Association and Greek system, a leadership studies program that emphasizes community engagement and more.

With an eye on the future, the university is working toward becoming a Top 50 public research university by 2025. Opportunities for undergraduate research abound in both the arts and sciences, Bosco said. Students also can broaden their horizons through K-State's study abroad program, which offers learning opportunities in more than 85 countries.

K-State also is building for the future. Bosco noted that spring and summer 2016 saw the opening of Engineering Hall, the newest addition to the university's engineering complex, and the Berney Family Welcome Center, home to New Student Services and Career Center. Opening this fall will be the new College of Business Administration building and Wefald Hall, K-State's new residence hall. Among major projects set to open in 2017 include the K-State Student Union expansion and renovation and Seaton Hall expansion and renovation for the College of Architecture, Planning & Design.