Save on star power: Don't miss McCain Performance Series' Super Saver Sunday on July 31
Thursday, July 28, 2016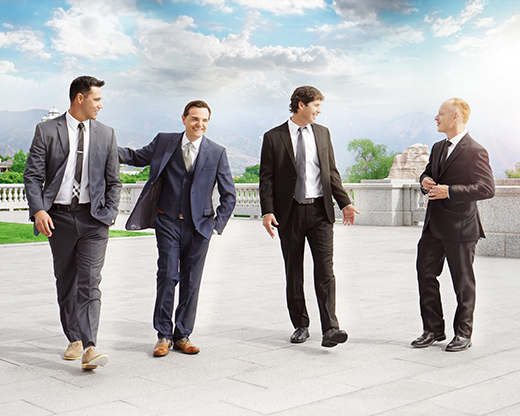 Single tickets to ThePianoGuys, one of the acts appearing in the 2016-2017 McCain Performance Series at Kansas State University, will be 10 percent off at Super Saver Sunday, the McCain Open House and Single Ticket Sales Party, Sunday, July 31, at McCain Auditorium. The show by ThePianoGuys will be at 7:30 p.m. Tuesday, Sept. 20. | Download this photo.


MANHATTAN — Kansas State University's McCain Performance Series is making it easy to save while catching some of the biggest names in entertainment.

July 31 is Super Saver Sunday at the McCain Open House and Single Ticket Sales Party in McCain Auditorium. Everyone's invited to save 10 percent off of single tickets to most McCain shows for the coming year. The 2016-2017 season features Pat Metheny, Straight No Chaser, Lyle Lovett, Chef Robert Irvine, Brian Regan, "Annie," Air Supply, Melissa Etheridge, ThePianoGuys and much more.

Doors open at 1 p.m. Enjoy refreshments and watch a video preview of the upcoming McCain season. Show your completed ticket order form — download in advance at k-state.edu/mccain or pick up a copy at the open house — to get your number for McCain's "take-a-number" ticket-ordering system.

The box office opens at 2 p.m., with the last chance to get a number at 3:30 p.m. Online sales of single tickets also will begin at 2 p.m. July 31, but you must be present at the event to get the 10 percent discount. Phone orders will not be taken on July 31.

The 10 percent discount is only available at the Super Saver Sunday Open House, but will not apply to the following shows: An Evening with Lyle Lovett and Robert Earl Keen, The Ten Tenors: "Home for the Holidays," "Pippin," Tower of Power, "STOMP," "42nd Street," "100 Years of Broadway," Odd Squad Live! and "Mamma Mia!"
Although the 10 percent discount applies to regular-price tickets only, Kansas State University students and kids 18 and under always receive a 50 percent discount for all McCain Performance Series shows.

Remaining single tickets will be available at the McCain box office from 11:30 a.m. to 4:30 p.m., by phone at 785-532-6428 or online at k-state.edu/mccain beginning Monday, Aug. 1.