Kansas State University Launch a Business Program provides much-needed resources for four Kansas startups
Thursday, July 7, 2016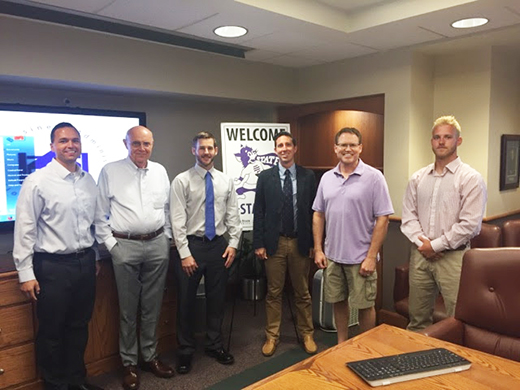 Participants and faculty for this year's Launch a Business program at Kansas State University included, from left: Chad Jackson, director of the Center for the Advancement of Entrepreneurship; Phil Howe, Launch a Business program sponsor with KS State Bank; Kyle Wall, Garden Hub; Jared Tremblay, New Heritage Mapping; Dave Dreiling, Launch a Business program mentor; and Tyson Johnston, Agrinux Solutions. | Download this photo.


MANHATTAN — Four Kansas-based startups recently received a five-week crash course in how to grow their business from the ground up through the Kansas State University Launch a Business, or LAB, program.

The program, which was sponsored by KS State Bank and the College of Business Administration's Center for the Advancement of Entrepreneurship, provided the selected startups with much-needed resources, including faculty-led courses, hands-on student research teams and access to the university's world-class alumni mentor network.

This year, the LAB program utilized Lean Launchpad curriculum to teach entrepreneurs how to analyze their business model and conduct consumer interviews to validate assumptions about their model. Mentors, who are made up of successful entrepreneurs from all areas of business throughout the state, provided weekly feedback and advice to the participants as their business models continued to evolve throughout the process.

The program concluded on June 30, when the entrepreneurs presented their updated business models on the university's Manhattan campus, providing insights into what was learned throughout the course of the program.

"One of our university's goals is to support the economic development and growth in the state of Kansas," said Chad Jackson, director of the Center for the Advancement of Entrepreneurship. "We developed K-State LAB as a way to reach out and support the entrepreneurs in the state. Our faculty, alumni mentors and students are incredible resources, and the LAB program allows us to share their expertise with the community."

The following startups were chosen for the 2016 program:

Agrinux Solutions LLC, Dodge City, specializes in providing modern software solutions to the agriculture industry. Co-founder Tyson Johnston's product utilizes historical data, analytics and user feedback to provide better record-keeping and decision-making tools for his users. The company is currently beta testing its first product, CorralHub, with several operations in southwest Kansas. CorralHub is a cloud-based system that is accessible via desktop, phone and tablet, and is the first all-in-one solution to get beef producers tracking and managing their livestock operation in a convenient and easy-to-use format. The company is now accepting requests for early access at www.corralhub.com and plans to launch the program by late August with the release of its app into iTunes App Store by mid-October.

Garden Hub, based in Manhattan, is an app that allows gardeners — from farmer's market sellers to gardening hobbyists — to showcase and sell their products through the app. Owner Kyle Wall hopes to connect people with clean and healthy food that is locally sourced.

New Heritage Mapping, Manhattan, is bringing community cemeteries from the past to the present by leveraging the internet to take local history and connect it to the world — seamlessly connecting users with their heritage. According to founder Jared Tremblay, many small communities, townships and churches have incomplete and disorganized cemetery records and maps, many in formats that are difficult to use, making cemetery management difficult. Those communities also do not have the expertise, time or budget to solve these problems, and are in need of a modern database that serves as a consolidated record for management, historical records and genealogical queries, with the ability to reach the public in an easy to use way.

Clara Diagnostics Inc., Olathe, is a patient-oriented, diagnostic assay development company. Founder Kimberley Plevniak is developing variable diagnostic tests using low-cost, 3-D printed chips combined with smartphone readouts and distance communication with doctor's offices. The developed test chip costs less than 5 cents and only requires 5 microliters of blood, and is suitable for home care and point of care using a smartphone. One product prototype that the company has developed is for diagnosis of anemia from one drop of finger-prick blood in 60 seconds. Plevniak believes such smartphone-based, low-cost, low-consumption, portable and disposable tests will substantially increase health care quality and accessibility.