Kansas State University veterinary researcher's work featured in science as art exhibition
Monday, July 25, 2016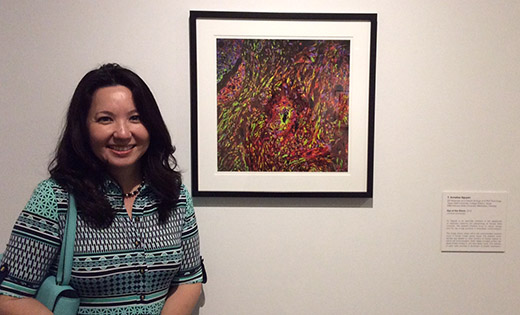 "Eye of the Storm," by Kansas State University College of Veterinary Medicine research Annelise Nguyen, shows where cell-to-cell communication proteins occur in human breast cancer tissue. | Download this photo.


MANHATTAN — A cancerous storm is among the nine artistic images in a new exhibition of work by regional scientists on display in Kansas City, Missouri.

"Eye of the Storm" was captured by Annelise Nguyen, a researcher in the College of Veterinary Medicine at Kansas State University, through a confocal microscope and shows where cell-to-cell communication proteins occur in human breast cancer tissue.

The artwork is part of the Kansas City Area Life Sciences Institute's third annual "Science to Art" exhibition, which features intrinsic images found in biomedical research. Such images are usually only displayed on research journal covers.

"The purpose of 'Science to Art' is to provide a platform for scientists to display and describe their research through the visual arts," said Wayne O. Carter, institute president and CEO. "Each of the remarkable images chosen for our exhibit tells a personal research story and poetically captures the research performed by the scientists and their teams."

The images for the exhibit were submitted by scientists from Columbia, Missouri, to Manhattan, Kansas, and were selected by arts and science professionals. They were curated by the Kemper Museum, printed by Dolphin Archival Printing and framed by Dolphin Frames.

Nguyen artwork of a patient's tumor sample was labeled to show proteins of interest relating to cell-to-cell communication. The areas with green labels show connexin proteins, red labels are for protein kinase C and blue labels are for nuclei. Nguyen said the intensity of each color provides a landscape of protein expression.

An associate professor of diagnostic medicine and pathobiology, Nguyen has research interests focused on cancer biology and the role of gap junctions in intercellular communication. She is excited her artwork will benefit STEAM education, which adds art to the science, technology, engineering and mathematics, or STEM, fields.

"I am honored to have our work in breast cancer as one of this year's 'Science to Art' images to be auctioned and benefit K-12 STEAM education," Nguyen said. "The innovation, creativity and inspiration of my work are in part due to my art and music classes in secondary education. Thus, I think it's critical to recognize the arts-based training in K-12 education."

The works in the exhibition will be part of a silent auction at the Kansas City Area Life Sciences Institute's 2016 annual dinner Sept. 22 at the Arvest Bank Theatre at the Midland in Kansas City, Missouri. All proceeds from the auction benefit STEAM education in the community through the following organizations: BioGenius, Prep-KC, Science Pioneers and the Kemper Museum of Contemporary Art. The exhibition is available through Sept. 12 at Kemper East, 200 E. 44th St., Kansas City, Missouri.