Kansas State Veterinary Diagnostic Laboratory launches new mobile device app so clients can track progress on diagnostic samples for animal patients
Tuesday, Jan. 12, 2016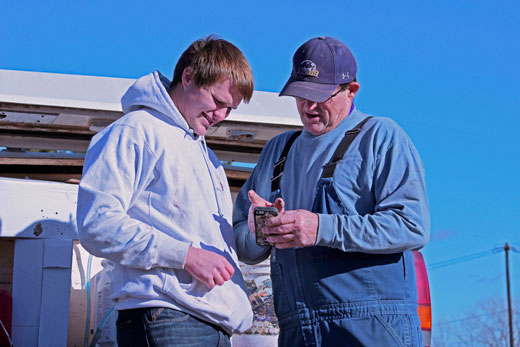 Veterinarians Brady Luke and Charles Luke access diagnostic results in the field on a cellphone using a new app developed by the Kansas State Veterinary Diagnostic Laboratory. | Download this photo.


MANHATTAN — Diagnostic results are now within touch at the Kansas State Veterinary Diagnostic Laboratory — thanks to the launch of a brand-new app for mobile devices. The lab anticipates the new app will improve customer service and efficiency at delivering results to veterinarians across the country.

Gary Anderson, director of the Kansas State Veterinary Diagnostic Laboratory in the College of Veterinary Medicine at Kansas State University, said the new app is a significant step forward in helping to deliver results.

"This is a major advancement in being able to provide diagnostics to practicing veterinarians out in the field," Anderson said. "Traditionally, we have used a variety of methods of delivery, from snail mail, telephone, fax and email. This app will give veterinarians a way to track the results as soon as they are received here in the lab. It will save time for everyone involved and is a real win-win for veterinarians and their clients who are seeking the best in medical care for their animals."

Gregg Hanzlicek, director of production animal field investigations for the Kansas State Diagnostic Laboratory, said that the app was specifically designed to meet client needs.

"We meet with so many of our veterinarians at conferences and events, and they have really prompted the demand to get results quicker and more easily," Hanzlicek said. "We're very excited we were able to figure out a way to merge the technology in our lab with the type of programming needed to create this type of an app for mobile devices. We're breaking new ground because there wasn't really anything else like this for us to emulate. We're fortunate to have the right people in our college to develop the application and test it for reliability."

Justin Wiebers is the director of client connections in the College of Veterinary Medicine.

"We studied what our veterinarians needed and looked at how the best mobile apps in other areas delivered on those types of needs," Wiebers said. "Then our programmers here in the college went to work."

Wiebers said push notifications are sent to veterinarians when their samples arrive in the lab and when their test results are ready. The veterinarians can then view and share those results wherever they happen to be working.

"It's a very intricate system to get information from our diagnostic lab database to the individual clients who are using a variety of Android, iPhone, and iPad devices," he said. "We're very excited to help our veterinarians be more productive while breaking new ground in the field of mobile apps for K-State."

The app is available at the App Store and at Google Play; just search for "KSVDL Mobile." Clients can get more information about the app by contacting the Kansas State Veterinary Diagnostic Laboratory at clientcare@vet.k-state.edu, 866-512-5650 or visit ksvdl.org.