Five high school seniors selected for Kansas State University's Kassebaum Scholarship
Thursday, Feb. 11, 2016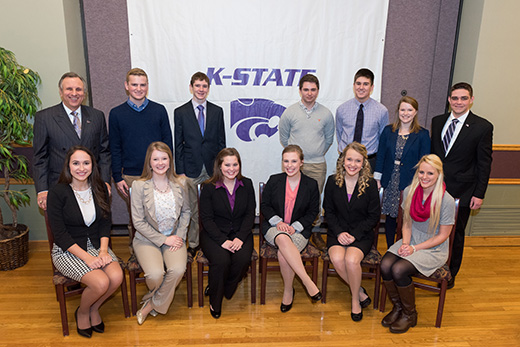 The 2016-17 Kassebaum Scholarship finalists and recipients. Front row, from left: Lanessa Aurand, Clara Wicoff, Emma DeMaranville, Sonora Sheldon, Ashtyn Rottinghaus and Kirsten Gordon. Back row, from left: Vice President for Student Life and Dean of Students Pat Bosco, John Slattery, Rogan Tokach, Adam Wilkerson, Cade McCoy, Haley Weinberg and Ethan Copple. | Download this photo.


MANHATTAN — Kansas State University has awarded the $5,000 Kassebaum Scholarship to five high school seniors.
Named in honor of former Kansas Sen. Nancy Kassebaum-Baker, the Kassebaum Scholarship recognizes students whose academic and extracurricular achievements reflect the potential for and desire to make a difference through energetic leadership in the public service arena.

Selected for the 2016-17 Kassebaum Scholarship are Lanessa Aurand, Belleville, a senior at Republic County High School; Clara Wicoff, Iola, a senior at Iola High School; Adam Wilkerson, Lenexa, a senior at Shawnee Mission West High School; Emma DeMaranville, Tonganoxie, a senior at Tonganoxie High School; and Haley Weinberg, Des Peres, Missouri, a senior at Westminster Christian Academy.

The scholarship competition was Jan. 25 on the Manhattan campus. The university received 227 applications for the scholarship and a selection committee chose 12 finalists for interviews.

"K-State is honored to recognize students who have a passion for public service and want to pursue a career in this area," said Kirk Schulz, Kansas State University president. "I am confident these students will have a lasting impact here and help with the university's goal of becoming a Top 50 public research university by 2025."

"The Kassebaum Scholarship has been awarded to 98 students since its inception in 2001," said Pat Bosco, vice president for student life and dean of students. "Kansas State University leads all public universities in Truman and Goldwater scholars since 1986, with many recipients of these prestigious scholarships coming from the Kassebaum Scholarship program."

The following high school students were selected as finalists for the Kassebaum Scholarship:

Rogan Tokach, Abilene, a senior at Abilene High School; Sonora Sheldon, Holton, a senior at Holton High School; Cade McCoy, a senior at St. James Academy, and John Slattery, a senior at Maranatha Christian Academy, both from Lenexa; Kirsten Gordon, Overland Park, a senior at Blue Valley Southwest High School; and Ashtyn Rottinghaus, Wellsville, a senior a Wellsville High School.

From out of state: Ethan Copple, Elkhorn, Nebraska, a senior at Elkhorn South High School.