Clearing the air: Kansas State University engineers to engage Chicagoans in air pollution monitoring
Tuesday, Aug. 9, 2016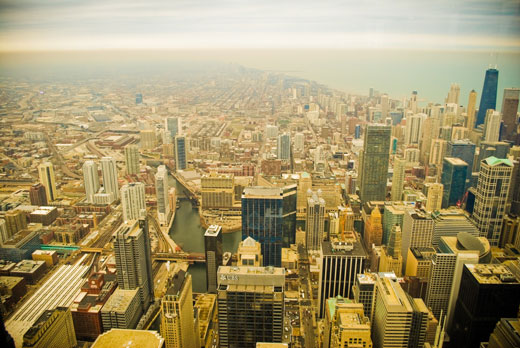 Chicago communities most at risk for poor air quality will soon have the opportunity to participate in their own air quality monitoring with help from Kansas State University.
MANHATTAN — Chicago communities with poor air quality can soon be more involved in air pollution monitoring with help from Kansas State University.

The U.S. Environmental Protection Agency awarded three Kansas State University researchers and seven Chicago organizations a $750,000 grant to investigate if giving communities access to low-cost portable air pollution monitoring devices could help improve air quality, which is directly related to human health concerns.

The project, "Shared Air/Shared Action: Community Empowerment through Low-cost Air Pollution Monitoring," is one of six similar EPA Science to Achieve Results research grants awarded across the nation and will involve Chicago's environmental justice communities — areas that share a disproportionate amount of the risk in contamination and pollution from industrialization and modern society. The researchers will do a pilot study in winter 2016 and will launch the full study in spring 2017.

"In a crowded city, many people end up living next to landfills, major highways or industrial areas," said Wendy Griswold, the project's principal investigator and Kansas State University's Center for Hazardous Substance Research project manager. "Studies have shown that people living in environmental justice, lower-income, minority communities adjacent to such pollution sources have historically experienced higher pollution levels."

Chicago's industrialized history and repeated air quality citations make it an ideal area to test the researchers' hypothesis that communities will become more engaged in improving their environmental surroundings if they are provided with relevant scientific and technical tools. According to the grant proposal, 17-25 percent of children in Chicago's Little Village neighborhood have asthma. Griswold said that this neighborhood and other similar neighborhoods could benefit from closer ambient monitoring stations.

"When you involve people in a significant way in addressing or defining their problems, then the solutions are much more sustainable and actually address the problem," said Griswold, who has a background in public education and outreach services.

The project will involve the Chicago area's Little Village, South Loop, East Side and Riverdale communities, all next to coal ash repositories, metal shredders, vehicle diesel emissions, landfills or other pollution sources and all lacking adequate ambient air monitoring stations. The researchers and their organizational partners will provide appropriate technical assistance and low-cost portable sensors for the communities.

"Chicago-based Respiratory Health Association has noted that vehicle exhaust, particularly from older diesels, is a significant health threat to many at-risk communities in the Chicago region," said Larry Erickson, the project's co-principal investigator, Kansas State University professor of chemical engineering and the Center for Hazardous Substance Research's director. "Many people die each year because of poor air quality, so if you improve the air quality, there will be health benefits."

The project will educate adults and facilitate cross-community collaboration, which the researchers think will encourage beneficial policy decisions and improve environmental surroundings. According to Erickson, if more people have access to monitoring devices, they can make better-informed decisions — such as the best transportation to reduce pollution and to improve local conditions.

"Transportation is one of the significant sources of pollution for these inner-city communities," Erickson said.
"In an urban area, the air is generally much better on Sunday morning than when people are going to work during the weekdays. If communities can understand the dynamics, they can take precautionary measures to reduce the risks they face."

The researchers have four objectives for the project:

• Investigate if research by residents can improve understanding of pollution concentrations and develop strategies to monitor pollutants and analyze and communicate results.

• Investigate cross-community coalition building related to communication and environmental health infrastructure.
• Investigate the ability to leverage resources and create action plans to reduce exposure and mitigate health risks.

• Evaluate and document the process so future researchers can learn from the study.

Erickson and Griswold, who also has a dual appointment at the University of Memphis, will work with Kansas State University's Ronaldo Maghirang, professor of biological and agricultural engineering. The seven organizations in the Chicago area participating in the project are the Alliance for a Greener South Loop, Delta Institute, Little Village Environmental Justice Organization, People for the Community Recovery, Respiratory Health Association, Southeast Environmental Task Force and the University of Illinois, Chicago.