Kansas State University, Fort Riley expand partnership through club sports
Wednesday, April 13, 2016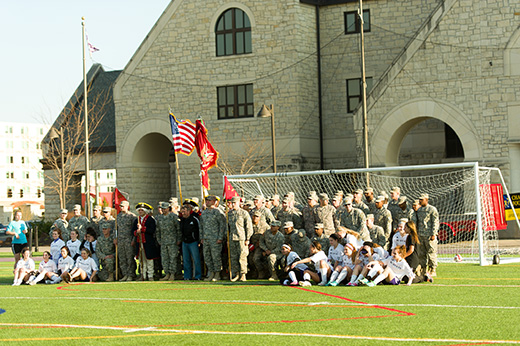 The annual K-State Ed Chartrand Memorial Soccer Tournament is one way students in club sports at the university reach out to Fort Riley soldiers and their families. This year's tournament will be April 15-17 at the university's Memorial Stadium. | Download this photo.


MANHATTAN — Fort Riley's institutional partnership with Kansas State University has extended to K-State's club sports teams, as evidenced by the 37th annual K-State Ed Chartrand Memorial Soccer Tournament.

The men's and women's club soccer tournament will be on campus April 15-17, during the university's open house weekend, at Memorial Stadium.

"Our club sports students have truly reached out in partnerships to soldiers and their families," said Art DeGroat, executive director of military and veterans' affairs for Kansas State University. "This mutually beneficial relationship has helped members of the military to be a part of the K-State club sports experience and the K-State family."

In addition to soccer, the military-university partnership includes several other sports-centric activities, such as the K-State-Fort Riley Rugby Club, which hosts annual clinics for soldiers who are new to rugby, and a nationally competitive inline hockey team, which scrimmages with soldiers and even purchased additional equipment to do so. All the clubs host games, matches and special events with alumni and military partners.

Transient military families receive the opportunity to root for a home team, while students develop a deeper appreciation for the military through an interpersonal perspective, DeGroat said.

"The sporting venue is a great place for mutual understanding of the different life courses each has chosen to pursue," DeGroat said. "It reinforces our overarching commitment to be a military-inclusive university."

DeGroat would like to leverage the program to increase the success of Kansas State University's club sports program, expand interactions between soldiers and students, and grow event attendance to include additional students and community members.

"The success and vitality of this program is fully attributed to the club sport student-athlete team leaders, their coaches and Fort Riley unit leaders that make this all work in a truly authentic way," DeGroat said. "This is not just a fan experience, but an enriching, engaged and mutual relationship."