Kansas Entrepreneurship Challenge awards more than $10,000 to student entrepreneurs
Thursday, April 28, 2016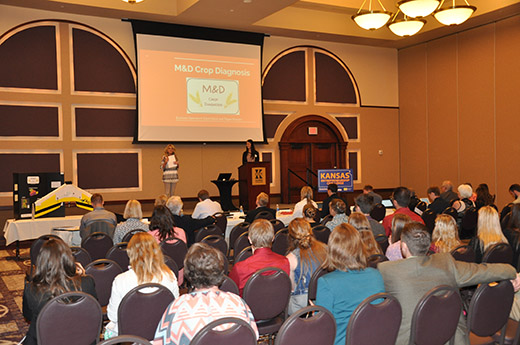 High school division winners Tegan Maxson and Gwyn Dean, Labette County High School, pitch their business at the Kansas Entrepreneurship Challenge. | Download this photo.


MANHATTAN — A statewide student entrepreneurship competition featuring 29 high school teams and four universities has awarded entrepreneurial-minded students from across the state with more than $10,000 in prize money.

The Kansas Entrepreneurship Challenge gave high school and college students from Kansas experience in the process of making a business proposal. The event was organized by the Kansas State University Center for the Advancement of Entrepreneurship in conjunction with Network Kansas.

"It was very gratifying to see so much hard work culminate in the Kansas Entrepreneurship Challenge at K-State," said Anne Dewvall, manager of e-community partnerships at Network Kansas. "The highlight was seeing the incredibly talented entrepreneurs from across the state present in front of judges, parents and their peers."

To qualify, students first competed in idea competitions at the local level for the chance to represent their school in the challenge. The students then traveled to Kansas State University where they delivered a two minute "quick pitch" of their business to a panel of judges that consisted of entrepreneurs, statewide business leaders and investment experts. From those pitches, the judges selected eight high school finalists, and four collegiate finalists, who each then had the opportunity to do a more in-depth presentation, followed by a question-and-answer session with the judges.

"The Kansas Entrepreneurship Challenge is an opportunity to showcase the tremendous entrepreneurial talent we have in the state of Kansas," said Chad Jackson, director of the Center for the Advancement of Entrepreneurship. "The real-world experience of pitching a business in front of the type of business experts we have on our panel is invaluable to these students, and provides real-world feedback and support to launch companies within our state."

Representing Kansas State University in the collegiate division was Ben Jackson, senior in marketing, Manhattan, and Harrison Proffitt, December 2015 bachelor's graduate in marketing, Hutchinson, who won $2,000 and first place for their pitch for Bungii, a mobile application that will connect users with a driver and pickup for moving big objects around town.

The Co2llect team of Cory McCurry, Marcos Felipe Goncalves Silva and Michaela Diercks from Fort Hays State University, Hays, took second place and $1,500 home for their pitch centered on a carbon dioxide measuring device and app. Brista Robinson, Washburn University in Topeka, placed third with a $1,000 prize for her pitch of Kanza Konez, a potato chip ice cream cone. Rounding out the collegiate division was Emporia State University's Megan Allen, whose pitch for natural skin product Nfusion took home $500.

In the high school division, Tegan Maxson and Gwyn Dean, Labette County High School in Altamont, took first place and $1,500 in the high school division for their pitch of M&D Crop Diagnosis, a drone-powered crop diagnostic service.

In a tie for second, with each team taking home $1,000, were Corbin Crawford and Logan McHenry, Hoisington High School, for their smartphone screen replacement service Cardinal Screen Repair, and Ahrash Karbasi and Chris James, Blue Valley Northwest High School, Overland Park, for their e-sports tournament business Competitive Gaming Legion.

The five other high school division finalists each received a $500 prize: Kathleen Miller, Arlington; Reece Leonard, Cheylin West High School in Bird City; Max Pierce, Columbus Unified High School; Molly Moden, Trego Community High School WaKeeney; and J. Larkin Witte, Winfield High School.

Also competing in the high school division: Danielle Ruiz, Rawlins County Senior High School, Atwood; Clark Loewer and Clayton Cook, Central Senior High School, Burden; Katey Freeman and Camrin Sellers, Southeast High School, Cherokee; Brendan Pfizenmaier, Clay Center Community High School; Kailey Shields, Jersey Carney, Hallie Vaughn, Maia Cape, Marina Conner and Christian Calliham, Colby High School; Jade Artzer, Goodland High School; Caleb Rempel and Kyle Unruh, both from Hillsboro High School; Shyla Mason, Wichita County High School, Leoti; Mckenzee Remmers, Erika Hess, Brittany Hett, Marissa Jacobson, Emily Davies and Colin Williams, Marion High School; Gabi Cabell and Jon Meyer, Blue Valley North High School, Hannah Harrick, Blue Valley Southwest High School, and Jack Ingram and Hunter Lopez, Blue Valley West High School,all in Overland Park; Tatum Bartels and Madi Mathes, Phillisburg High School; Jaden Roggow and Levi Lowe, Sedan Senior High School; Marina Valadez, D.J. Peak and Corey Wenrich, Stafford High School; and Isaac Nigus, Wamego High School.