Spring exhibitions at the Beach Museum of Art collide in thought-provoking way with current events
Monday, April 4, 2016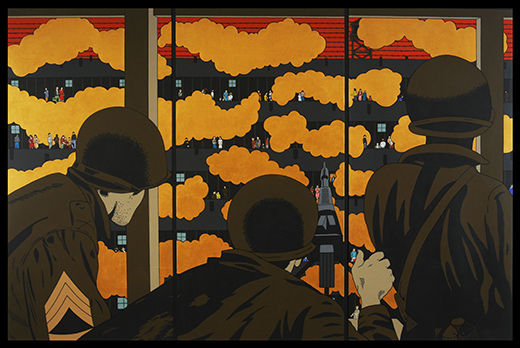 Roger Shimomura's "American Infamy #6," an acrylic on canvas. Photo courtesy of Roger Shimomura. | Download this photo.


MANHATTAN — Two exhibitions opening Tuesday, April 5, at Kansas State University's Marianna Kistler Beach Museum of Art explore the incarceration of Japanese Americans during World War II and prompt reflection on racial and ethnic stereotyping in public discourse today.

"Behind the Glass Eye: Photographs by Toyo Miyatake" will run through July 31 and "Minidoka on My Mind: Paintings and Prints by Roger Shimomura" will run through July 17.

Miyatake, who was born in 1895 and died in 1979, was a Los Angeles-based Japanese American artist and photographer who was best known for his photographs documenting the lives of Japanese Americans interned at Manzanar in the High Sierras of California during World War II. His earliest photographs of the camp were made secretly with a homemade camera.

The exhibition "Behind the Glass Eye" includes Miyatake's early experimental studio images as well as the more well-known scenes inside the barbed-wired fencing of Manzanar. Together, these photographs tell the story of an artistic life interrupted by war.

Hirokazu Kosaka, artistic director of the Japanese American Cultural and Community Center, and Alan Miyatake of the Toyo Miyatake Studio, both in Los Angeles, California, are guest curators for the exhibitions.

Shimomura's paintings, prints and theatre pieces address sociopolitical issues of ethnicity. He was born in Seattle, Washington, and spent two years of his early childhood in Minidoka, Idaho, one of 10 concentration camps for Japanese Americans during WWII. As an artist and teacher, Shimomura has received many prestigious awards, and his work is in the permanent collections of more than 90 museums, including the Metropolitan Museum of Art, Whitney Museum of American Art and the National Portrait Gallery of the Smithsonian Institution.

"Minidoka on My Mind" represents Shimomura's lifelong mission to use his art as a catalyst for dialogues about misperceptions and stereotypes of Asian American citizens during World War II and today.

"This exhibition should serve as a reminder that during times of international crises, our government seems to consistently lose its memory regarding past mistakes," said Shimomura, professor emeritus at the University of Kansas.

An opening reception Thursday, April 7, at the Beach Museum for "Behind the Glass Eye" and "Minidoka on My Mind" will begin with a 5 p.m. public conversation. Co-curators of "Behind the Glass Eye" Kosaka and Alan Miyatake will make brief remarks. At 6 p.m., Kosaka, a master of Japanese archery, will perform an arrow ceremony in honor of all those affected by the Alien Registration Act of 1940. The public is welcome.

"You People, Mistrust of the Other," a panel discussion inspired by "Behind the Glass Eye" and "Minidoka on My Mind," will be at 2 p.m. Saturday, April 9, in Town Hall at the Leadership Studies Building. The public is invited to join a panel of scholars and artists for an informed discussion of the lessons we can learn from history, and participate in a dialogue about racial and ethnic stereotyping, then and now. Panelists include Shimomura; Kosaka; and Steven Dandaneau, vice provost for undergraduate studies at Kansas State University. Moderator will be Zelia Wiley, interim associate provost for diversity at Kansas State University.

Additional events inspired by the two exhibitions are online at beach.k-state.edu.

The Beach Museum of Art is on the southeast corner of the Kansas State University campus at the corner of Anderson Avenue and 14th Street. Admission is free. The museum is open 10 a.m. to 5 p.m. Tuesday, Wednesday, Friday and Saturday; 10 a.m. to 8 p.m. Thursday; and noon to 5 p.m. Sunday. Free parking is available adjacent to the building. For more information, call 785-532-7718 or visit beach.k-state.edu.