Kansas State University Salina selected by Textron Aviation as partner in Top Hawk program
Friday, April 24, 2015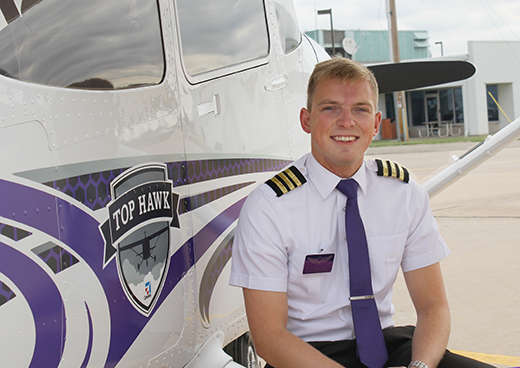 K-State Salina professional pilot senior Ian Barnhart will represent the university in Textron Aviation's' Top Hawk program. | Download the following photo.
SALINA — Kansas State University Salina will add to its piloting amenities after being chosen by Textron Aviation as a partner school in its inaugural Top Hawk program. K-State Salina is one of only four universities in the nation to be selected for participation.

Through the Top Hawk program, K-State Salina is given full use of a Cessna Skyhawk 172 aircraft, branded with the university's Powercat, for the remainder of 2015. This aircraft is considered the world standard for pilot training. K-State Salina students will be able to take advantage of its modern features, including the G1000 avionics system.

In addition, one student from each of the four chosen universities is given the opportunity to intern with Textron Aviation this summer, gaining exposure to business operations, leading ground school classes and continuing to build flight hours through flying lessons and discovery flights. At the end of the summer, those interns will compete against one another in a flying challenge, through which one aviator will be named Top Hawk.

"It's such an honor to be able to represent K-State Salina in the program," said Ian Barnhart, senior in professional pilot, Lancaster, Pennsylvania. "The Top Hawk experience will provide me with valuable learning and networking opportunities that will help build my career as well as benefit other K-State Salina students who will train in the amazing Cessna Skyhawk 172."

During a presentation April 21 at the annual Sun 'N Fun International Fly-In and Expo in Lakeland, Florida, Textron Aviation officially announced the start of the Top Hawk program and recognized K-State Salina as one of the partners.

"This is a unique opportunity for the company and the participating universities," said Doug May, vice president of Piston Aircraft, a division of Cessna. "The Skyhawk gives students, and prospective students, the most technologically advanced flight training platform available. We've had long relationships with all four university aviation departments. We look forward to deepening those ties through Top Hawk as these schools continue training the next generation of pilots."

K-State Salina's interim aviation department head, Barney King, was also at the event to accept the keys to the Cessna Skyhawk 172. He says that along with flight training at the university, the aircraft also will be flown to various events for recruiting and promotional activities, enhancing K-State Salina's aviation program in multiple ways.

"To be chosen as one of only four universities in the nation to be a part of this program is quite an honor for K-State aviation," King said. "Cessna is a good partner to us, and we are looking forward to watching how our Top Hawk intern does in the competition piece of this partnership. And with the addition of the new Skyhawk, all around this is another great milestone for our program."


The other three universities participating in the Top Hawk program are University of North Dakota in Grand Forks, North Dakota; Embry-Riddle Aeronautical University in Daytona Beach, Florida; and Liberty University in Lynchburg, Virginia.

For more information on K-State Salina's professional pilot program, contact King at 785-826-2683 or kingb@k-state.edu, and to learn more about the Top Hawk program, contact Lindsay Adrian, communications manager of Piston Aircraft, at 316-517-1616 or ladrian@txtav.com.