K-State research team finds unusual parasite in white rhinoceros
Friday, Sept. 15, 2023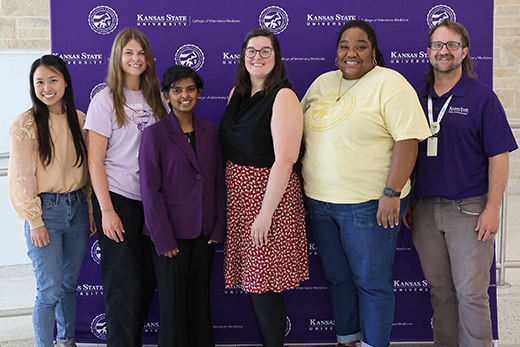 A team of parasitologists from K-State's College of Veterinary Medicine recently discovered an unusual parasite in a white rhinoceros and published the results in Parasitologia. From left: Kristen Hill-Thimmesch, Grace Schieferecke, Jeba Jesudoss Chelladurai, Theresa Quintana, Kamilyah Miller and Brian Herrin. Not pictured: William Johnson. | Download this photo.
MANHATTAN — A Kansas State University research team in the College of Veterinary Medicine recently uncovered the existence of an unexpected class of parasites in a white rhinoceros — the first such case report ever made in the United States.

The findings were published in the September issue of Parasitologia, an international, peer-reviewed, open-access journal. Theresa Quintana, a concurrent doctoral and Master of Public Health student, Topeka, was the student first author on the article.

The case report, "Kiluluma ceratotherii (Nematoda: Strongylida) in a White Rhinoceros (Ceratotherium simum) from the United States: Case Report," includes additional authors Jeba Jesudoss Chelladurai, assistant professor of parasitology; Brian Herrin, associate professor of parasitology; Grace Schieferecke, junior in microbiology, Eudora; Kamilyah Miller, doctoral student in pathobiology, Miami, Florida; and William Johnson, research assistant and first-year veterinary student, Wyandotte, Oklahoma.

"The collaborators on this paper all brought a distinctive skill set to the table," Quintana said. "The rhino was submitted by a zoo to the Kansas State Veterinary Diagnostic Laboratory for necropsy, where Dr. Kristen Hill-Thimmesch found the parasites in the colon and sent them to the parasitology lab for identification."

Chelladurai, who is Quintana's faculty mentor, morphologically identified the parasites, which are classified as nematodes of the genus Kiluluma — Strongylidae, Cyathostominae. The nematodes were believed to have caused inflammation of the colon in the rhinoceros but were not related to its cause of death.

"The publication of this case report is an outstanding example of multidisciplinary collaborations that underpin the responsive and engaged research and service delivered by our faculty, staff and students in the College of Veterinary Medicine at Kansas State University," said Hans Coetzee, associate dean for research and graduate programs in the college. "I am especially proud that our students have opportunities to leverage the skills of world-class experts in diverse disciplines to advance our understanding of parasite infections in understudied species such as the rhinoceros."

Quintana said the veterinary diagnostic lab has unique access to these types of interesting cases that can result in some rare and unusual parasite findings, and she shared her appreciation for Chelladurai's encouragement throughout this process.

"I feel very fortunate that Dr. Jeba presented me with the opportunity to conduct the molecular experiments and analysis and write this type of scientific literature piece," Quintana said. "She empowered me to feel I could successfully write this case report and address reviewers' feedback during editing."

Quintana said this was a great opportunity to practice a different style of written communication with a different type of audience in mind.

"The fact that Theresa has several papers in her first year as a Ph.D. student is in itself remarkable," Chelladurai said. "My goals of involving students in research collaborations are to enhance their interest in research by learning different lab techniques, to enrich their academic experience and to generate a tangible outcome for their future career in the form of being an author on a research paper. It is also good for students to interact and communicate with researchers in other labs and in their field of study."