K-State to lead $6M NSF project to study soil moisture preservation methods
Wednesday, Aug. 9, 2023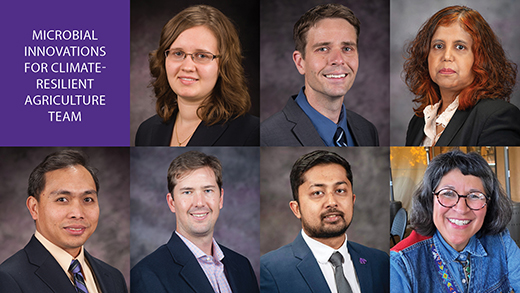 Kansas State University will receive a National Science Foundation grant for researchers to study microbially active soil amendments. Pictured are members of the K-State team working on the project. Top row, from left: Melanie Derby, Ryan Hansen and Ganga Hettiarachchi. Bottom row, from left: Jonathan Aguilar, Gabriel Sampson, Gaurav Jha and Debra Bolton. | Download this photo.
MANHATTAN — A Kansas State University researcher has been selected for a National Science Foundation grant to lead an interdisciplinary project studying methods for preserving soil moisture in the face of drought and warmer climates.

The National Science Foundation, or NSF, has announced that Melanie Derby, associate professor in the Carl R. Ice College of Engineering at Kansas State University, will receive a nearly $3 million grant as part of a $6 million cooperative award to study the potential for microbially active soil amendments to provide a long-term solution for conserving moisture and increasing nutrient availability for climate change-stressed crops.

Derby will lead the four-year interdisciplinary project, "Supporting rural livelihoods in the water-stressed Central High Plains: Microbial innovations for climate-resilient agriculture (MICRA)," alongside teams from the University of Nebraska-Lincoln and Langston University.

Team members from K-State include Ganga Hettiarachchi, professor of agronomy; Gaurav Jha, associate professor of agronomy; Gabriel Sampson, associate professor of agricultural economics; Jonathan Aguilar, associate professor of biological and agricultural engineering; Ryan Hansen, associate professor of chemical engineering; and Debra Bolton, director of intercultural learning and academic success for the Office of the Vice President for Diversity, Equity, Inclusion and Belonging.

The study will bring together engineers, mathematicians, soil and agricultural scientists, social scientists and agricultural economists to create fundamental knowledge that will benefit rural communities and build future research capacity in the field.

Derby's team will focus on integrating science, engineering and social science to understand microbially active soil amendments, irrigators' perceptions of them, and the impacts of climate change and drought on people and the rural economy while also training graduate and undergraduate students to conduct interdisciplinary research of their own.

"In the face of climate change in the Central High Plains, preservation of soil moisture under drought stress is a critical objective for both rainfed and irrigated conditions," Derby said. "Our team will determine if these microbially active soil amendments can be a long-term part of the solution to the challenges brought about by warmer climates."

The project is funded through the NSF's Established Program to Stimulate Competitive Research, or EPSCoR, which aims to build collaboration between similar jurisdictions with complementary expertise.

Sethuraman Panchanathan, NSF director, said the awards will strengthen community and regional efforts to understand the impacts of a changing climate and enhance the resilience of disproportionately affected communities.

"As evident from EPSCoR's impact, investing in research infrastructure is a powerful catalyst for strengthening our nation's security and competitiveness and fostering groundbreaking scientific advancements," Panchanathan said. "By addressing these critical challenges, and engaging with communities impacted by climate change, we have the potential to advance innovation and promote economic stability and recovery in EPSCoR jurisdictions and beyond."

Derby is the Dr. Charles E. Wilson chair in engineering and an associate professor in the Alan Levin Department of Mechanical and Nuclear Engineering at K-State.