Technology Development Institute at K-State creates custom machine for Kansas entrepreneur
Wednesday, May 17, 2023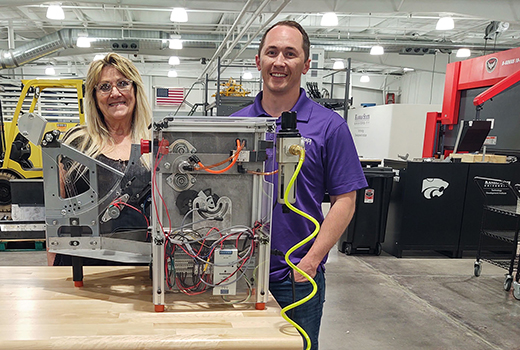 The Technology Development Institute at K-State designed and created a custom piece of automation equipment to increase production volumes for Merrie East, left, a Wichita-based entrepreneur. | Download this photo.
MANHATTAN — Kansas State University's Technology Development Institute has helped a Wichita-based entrepreneur design and fabricate a custom piece of automation equipment to increase production volumes.
Merrie East is an entrepreneur who created and patented a unique product to treat nose bleeds called NozePax. East had been producing the product by hand and selling it through her website and Amazon. As the product began to increase in popularity, she strained to keep up with the demand.
East contacted the Kansas Department of Commerce to determine if there were resources available within the state to help her develop a way to increase the production of her product. Representatives from the department put her in contact with the Technology Development Institute, or TDI, in K-State's Carl R. Ice College of Engineering. The TDI team evaluated her product, developed a concept to scale production and then began searching for resources to help her fund the development of the equipment.
Staff at the Technology Development Institute helped East prepare a proof-of-concept grant application through the Department of Commerce, which was awarded and provided the capital needed to design and construct the device.
"Working with TDI has been a great experience for me to help bring my product to the next level of development," said East. "In addition to helping with the design and construction of the machine, I was able to work with a business student to help me with updating my website and work on search engine optimization. They were able to come up with a new way to produce my NozePax product and then design a machine to produce them at a much faster rate than I was able to do by hand."
Using the proof-of-concept grant, the TDI team was able to design and build the machine that East is now using to produce her product in larger volumes. She is currently working to expand her local distribution of the NosePax product into local schools and hospitals around the Wichita area and across Kansas.
This project was completed with the assistance of the K-State Technology Development Institute, a U.S. Department of Commerce Economic Development Administration University Center that provides a broad range of engineering and business development services to both private industry and university researchers to advance the commercial readiness of new products or technologies.