K-State Salina students to compete in national flight race
Tuesday, May 23, 2023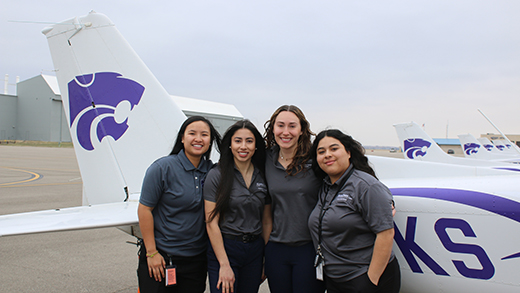 Four professional pilot students from K-State Salina will compete in the national Women's Air Race Classic from June 20-23. From left: Venus Thanasouk, Yulissa Hernandez, Natalie Novak and Roxana Linares. | Download this photo.
SALINA — Four students from the Kansas State University Salina Aerospace and Technology Campus are preparing to compete this summer in a national flight racing competition.
The Women's Air Race Classic is an annual competition featuring only female pilots. Competitors will travel from point to point across 10 states, taking off from Grand Forks, North Dakota, and crossing the finish line in Homestead, Florida. The 2023 race will take place June 20-23 and features 101 racers from 44 teams, including 19 teams from 15 universities.
K-State Salina is sending four student pilots to compete and gain experience from the competition. The students will be split into two separate teams of pilot and co-pilot. The students participating in the competition are Roxana Linares, senior, Arkansas City; Yulissa Hernandez, senior, Salina; Venus Thanasouk, senior, Wichita; and Natalie Novak, junior, Dawson, Nebraska. All four are in the professional pilot degree program at K-State Salina.
Hernandez, who is also the student leader of the campus's Women's Air Race Classic organization, says that the competition is a challenge for all female pilots currently or formerly in the aviation industry, regardless of age.
"The Women's Air Race Classic is an annual race that female pilots of all ages get to participate in and challenge their aviation knowledge and skills," Hernandez said. "This is a great opportunity for each pilot to gain more experience and fly over different parts of the country that they might not have seen before. We'll also have a chance to fly with and meet other female pilots and network with those in the aviation industry."
During the four days of the race, competitors will fly to and from nine different stops at locations across the country, including a flyover in Kansas at the Herington Regional Airport. The teams will be timed on each flight leg over 2,333 nautical miles — more than 2,600 miles — while implementing strategy accounting for airplane endurance and weather. The team with the fastest combined time will win the competition.
The top 10 teams will receive a cash prize, with the winning team being awarded $6,000 and prizes for each team member. Teams can also win awards in numerous categories, including a collegiate division.
K-State Salina's student teams will fly in Cessna 172s, the standard aircraft for flight training in the professional pilot degree.
While the Women's Air Race Classic allows students to compete while enjoying their craft, it is also another example of K-State Salina's dedication to finding more flight experience for its female students.
"The Women's Air Race Classic allows our student participants an educational space away from the classroom that is fun and exciting but also benefits their future career prospects," said Terri Gaeddert, associate dean of academics and interim department head of aviation at K-State Salina. "Student experiences like this strengthen their development and help them stay engaged and focused and supports our campus's strategic initiatives."
For more information and to view the race route, visit the Air Race Classic website.