K-State physicists part of team awarded $90.8 million from National Science Foundation
Thursday, April 6, 2023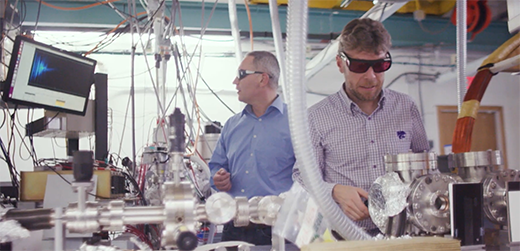 K-State physicists Artem Rudenko and Daniel Rolles are part of a team that has received NSF funding to create a facility to study materials at an atomic level. | Download this photo.
MANHATTAN — Two Kansas State University physicists are part of a team that has been awarded $90.8 million from the National Science Foundation to create a Compact X-ray Free-Electron Laser, or CXFEL, facility to study materials at an atomic level.
Artem Rudenko, Cortelyou-Rust professor of physics and director of the James R. Macdonald Laboratory, and Daniel Rolles, associate professor of physics, will contribute atomic, molecular and optical physics expertise to the diverse collaboration led by Arizona State University.
This investment by the National Science Foundation, or NSF, through its Mid-scale Research Infrastructure-2 award supports cutting-edge science and engineering research infrastructure by underwriting the construction of unique instruments that provide deep, multidimensional information needed for transformative discoveries in a wide range of disciplines.
"The facility's capabilities will transform scientific outcomes in physics, biology and chemistry," said Rudenko. "It will help investigators advance renewable energy research, quantum technologies and semiconductor research and manufacturing, and it will allow scientists to observe molecular level processes important for understanding human health and developing drugs."
K-State will receive $242,248 over five years for Rudenko and Rolles to help build the facility's electron-ion coincidence instrument. It will be based on technology co-developed at the James R. Macdonald Laboratory and used by scientists around the world.
"We are thrilled to be a part of this groundbreaking collaboration and have the opportunity to work on this project, which will inevitably lead to breakthrough technologies that will impact several scientific disciplines," said Rolles.

The diverse collaborators on this project include a Hispanic-serving institution lead and 15 other organizations in 11 states. Kansas State University is one of two institutions in NSF Established Program to Stimulate Competitive Research, or EPSCoR, jurisdictions.
"The projects in this [Mid-scale RI-2] series of awards, of which CXFEL is the first, will bring much needed state-of-the-art tools to a broad range of research communities, combining cutting-edge science with unique training opportunities for future scientists from very diverse backgrounds," said Linnea Avallone, NSF chief officer for research facilities.
K-State's James R. Macdonald Laboratory in the College of Arts and Sciences' physics department is one of the most active centers for atomic, molecular and optical physics in the U.S. Visit the lab's website to learn more.