K-State Technology Development Institute creates custom machine for Kansas manufacturing company
Friday, March 24, 2023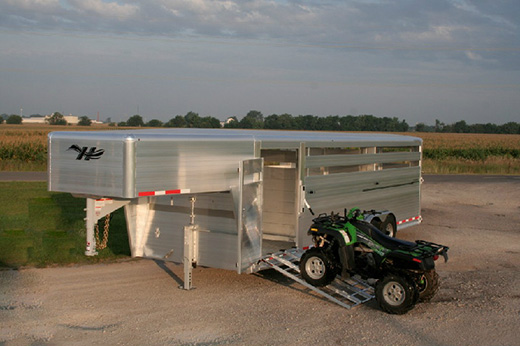 Kansas State University's Technology Development Institute designs and creates custom machinery to assist Hillsboro Industries in fabricating double-walled aluminum trailers. | Download this photo.
MANHATTAN — Kansas State University's Technology Development Institute is helping Hillsboro Industries, a Kansas manufacturing company, continue to produce high-quality trailers for the livestock industry by designing and fabricating new machinery.

Hillsboro Industries is a leading manufacturer of trailers and truck beds. The company produces a line of premium quality products using double-wall aluminum extrusions to add durability and quality to its line of trailers. To further ensure this level of quality, Hillsboro reached out to the Technology Development Institute, or TDI, in K-State's Carl R. Ice College of Engineering to investigate alternative options for preparing the mating surfaces of the aluminum extrusion for the bonding process.
The TDI team examined steps in the process that they could improve to maintain quality, accelerate production and reduce tedious maintenance. The team modeled the concepts in a computer-aided design program, which was reviewed with the company to highlight the design modifications.
The Technology Development Institute then designed, fabricated and tested a custom piece of equipment at the K-State facility. When the machine met all performance criteria, Hillsboro Industries picked it up and incorporated it into their production line.
"Working with the team at Hillsboro has been a great experience to understand the company's passion to produce the highest quality product possible and their willingness to examine each step and detail of the fabrication process to identify areas of continual improvement," said John Bloomfield, Technology Development Institute engineering director. "We are excited to see the machine being put to use immediately and are confident that the end results of the machine will be positive for both Hillsboro and its future customers."
K-State's Technology Development Institute, a U.S. Department of Commerce Economic Development Administration University Center, provides a broad range of engineering and business development services to both private industry and university researchers to advance the commercial readiness of new products or technologies. To learn more about the Technology Development Institute, visit k-state.edu/tdi.