K-State showcases student, faculty talent in 'Reflections, Spring Dance Concert '23'
Tuesday, March 28, 2023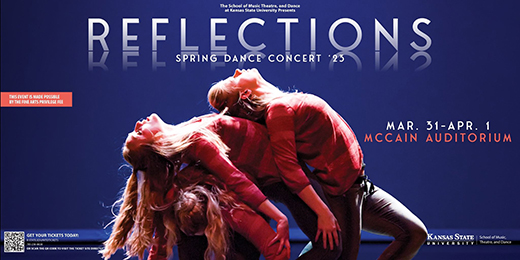 "Reflections, Spring Dance Concert '23" from K-State's School of Music, Theatre, and Dance will be at 7:30 p.m. March 31 and April 1 in McCain Auditorium. Tickets can be purchased online. | Download this photo.
MANHATTAN — Kansas State University's School of Music, Theatre, and Dance presents "Reflections, Spring Dance Concert '23" at 7:30 p.m. Friday, March 31, and Saturday, April 1, in McCain Auditorium.
The concert features choreography, movement creation, costume design and performances from K-State faculty and students as well as choreography and costume design from critically acclaimed dancer and guest choreographer-in-residence Karida Griffith Walker. Tickets can be purchased online at k-state.edu/mtd/events/tickets/.
Kate Digby, associate professor and associate director for dance, presents dance excerpts from her National Endowment for the Arts sponsored project, "Search for Simurgh," in which K-State dancers are featured as a living, breathing, moving forest.
Julie L. Pentz, professor of dance, choreographed "Hide and Seek," a classic tap dance number, and a new jazz dance, "Heart."
Stephen Loch, teaching assistant professor, choreographed "There Once Was a River," a modern dance work that was shown at the American College Dance Association in March, and "A Part of Me," a new modern dance work featuring live music. Jack Johnson, master's student in music, Waseca, Minnesota, plays percussion in "A Part of Me."
Choreographer-in-residence Griffith Walker has been on faculty at Pace University and the Broadway Dance Center in New York. As a member of the famed Radio City Rockettes, Griffith Walker performed annually in the "Radio City Christmas Spectacular," in the Radio City tribute, "Sinatra," on The Today Show and at the Tony Awards. She has performed as a cast member for the European tour of the Broadway hit "Black and Blue" and Cirque du Soleil's "Banana Shpeel," and she has performed in multiple episodes of "Boardwalk Empire" on HBO.
In addition to being a founding member of the critically acclaimed Dorrance Dance, Griffith Walker has been a member of the "Cotton Club Sophisticated Ladies" with Dormeshia, "T.A.D.A.H." with Jared Grimes, Mable Lee's Ladies and Barbara Duffy & Company, and she has performed with Chloe Arnold's "Syncopated Ladies." Griffith Walker has partnered with the Children's Theatre Company of New York City for 20 years and is a member of "Sebe Kan," a West African dance company. She holds a bachelor's degree in business from New York University.
Griffith Walker provided choreography and costume design for "The Night-Out Swing" and "Seaside."
"The Night-Out Swing" is a contemporary take on the vernacular jazz social dances of the 1920s and '30s. With its origins in West African dance and the music of the jazz era, vernacular jazz dance arose in the Black community and laid the foundation of hip-hop and many other styles. "The Night-Out Swing" captures a group of friends in a dorm room deciding what to wear and do on their big night out. Part tribute to vernacular jazz and part celebration of modern college life, the dance examines the ties and joys of friendship.
"Seaside" uses tap dance to explore the waves of emotions — joy, connection, stillness and reflection — that rise and fall like the waves and tides of the sea. Coldplay's song, "Yellow," is reinterpreted here by the Dallas String Quartet and provides a nostalgic, rhythmic landscape with plenty of room for the percussive syncopations of modern tap.

The following K-State students are dancers in "Reflections, Spring Dance Concert '23":
Haylee Nicholas, sophomore in architectural engineering, Andale; Lauren Bruna, senior in life sciences, Hanover; Sophia Baskerville, junior in sports nutrition, and Rose West, non-degree student, both from Junction City; Caroline Humphrey, freshman in elementary education, Leawood.
From Manhattan: Rylee Boyd, master's student in architecture; Alyx Glessner, sophomore in sociology; and Bella Stearns, sophomore in athletic training and rehabilitation sciences.
Riley Chrisler, sophomore in elementary education, Oakley; Abbey Griffin, sophomore in nutrition and health, and Margot McClain, freshman in elementary education, both from Overland Park; Ella Tow, sophomore in chemistry, and Alexis Sutton, senior in bakery science and management, both from Shawnee; Ann Stegman, senior in elementary education, Topeka; Hope Wedel, senior in fisheries, wildlife, conservation and environmental biology, Valley Center; and Annika Wiebers, junior in agricultural communications and journalism, Wamego.
From out of state: Sami Villasana, sophomore in geology, Aurora, Colorado; Alicia Bohren, senior in animal sciences and industry, Longmont, Colorado; Audrey Henton, senior in dietetics, Kansas City, Missouri; Anna Paige Warner, sophomore in social work, Liberty, Missouri; Cassie Meyer, senior in dietetics, Warrensbug, Missouri; Rachel Reichert, master's student in architecture, Platte City, Missouri; Madison Hunter, junior in accounting, Aurora, Nebraska; Mariah Uden, senior in social work, Kenesaw, Nebraska; Kelby Meisinger, senior in elementary education, Louisville, Nebraska; and Avery Johnson, sophomore in biology, Owasso, Oklahoma.

From out of country: Emily Hug de Belmont Brugada, senior in business, Asuncion, Paraguay.